CSUN Honors Día de los Muertos with Two-Day Celebration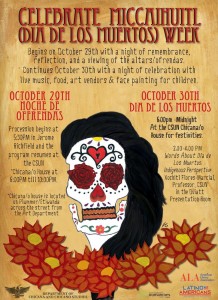 Halloween is approaching, and with it the commercially misunderstood Mexican holiday Día de los Muertos. Face painting and death-themed festivities show similarities to the European-based Halloween, but Día de los Muertos revolves around the appreciation of life and dead loved ones.
"It is important to understand that it is not Halloween," said Lara Medina, professor of Chicana/o Studies. "It's an ancient tradition that's adapting to modern times."
The California State University, Northridge Department of Chicana/o Studies — in cooperation with Medina and professor Yreina Cervantez — will host a two-day celebration, Miccaihuitl, in honor of Día de los Muertos, Oct. 29–30. The events will be primarily hosted at the Chicana/o House, located on Plummer Street, across from the Department of Art building.
"The tradition is about the annual time to remember, honor and commune with our loved ones who have passed on," Medina said. "It's a very spiritual time to connect again with our dead."
On Thursday, Oct. 29, guests are invited to participate in the Noche de Ofrendas (Night of Offering) procession starting at 5:30 p.m. at Jerome Richfield Hall, culminating at the CSUN Chicana/o House at 6 p.m. At the procession, participants are encouraged to exchange stories of deceased loved ones and share food and flower offerings.
"We will also have a community altar, and people can add to it," Medina said.
At 6 p.m. on Friday, Oct. 30, the Chicana/o House will host Día de los Muertos festivities with live music, food and art vendors. CSUN students will present information about the Día de los Muertos tradition, arts and crafts, and face painting for children.
"Friday will be more of a festival event," Medina said. "It will be more music and performance."
Also on the 30th, CSUN's Delmar T. Oviatt Library is collaborating with the San Fernando Public Library to host a program with professor Xochitl Flores-Marcial, who will speak on "Words about Día de Los Muertos: Indigenous Perspectives." The program will take place from 2 to 4 p.m. in the Oviatt Library's Ferman Presentation Room.
Earlier in the month, Flores-Marcial offered a workshop, "How to Make Papel Picado," in honor of the holiday, at the San Fernando Public Library.
All CSUN Miccaihuitl events are open to the public and those who are interested in honoring the dead with joy and respect. "It's a time when the veil between the physical world and the spiritual world is lifted," Medina said. "So the spirits are able to return and enjoy all of the bounty we have laid out for them."