CSUN Session to Explore Role of Hip-Hop in Lives of Men of Color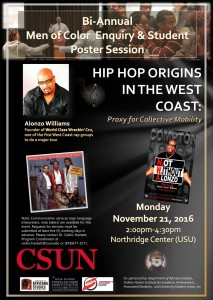 Hoping to inspire an introspective and external exploration of the influences, including hip-hop, on the lives of men of color, California State University, Northridge is hosting its fall Bi-Annual Men of Color Enquiry and Student Poster Session on Monday, Nov. 21.
The session is centered around the origins of hip-hop on the West Coast and the role the music genre plays as a proxy for collective mobility for men of color. The event will feature a presentation by Alonzo Williams, founder of World Class Wreckin' Cru, one of the first West Coast-based rap groups to do a major tour.
The Men of Color event is scheduled to take place from 2 to 4:30 p.m. in the Northridge Center of the University Student Union, on the east side of the campus located at 18111 Nordhoff St. in Northridge.
"The first goal of the event is to provide a co-curricular experience outside the classroom that connects course content with what is happening in the world, and to provide an opportunity to share with the campus community and others what we are doing," said Africana studies professor Cedric Hackett, director of CSUN's DuBois-Hamer Institute for Academic Achievement. "But the bigger goal is self-exploration and sharing some of the challenges and triumphs that black men face in the diaspora, including America."
Hackett pointed out that the evolution of hip-hop provided its artists and fans an opportunity to confront stereotypes and to take on social justice issues, such as police brutality to the reduction of the black male body as a commodity, hyper-masculinity, and issues of identity and class. The music genre also opened doors to new avenues for entrepreneurship and education.
"Given what's happening in our country, it's a particularly relevant time to make an examination of the role hip-hop plays in the lives of persons of color," Hackett said. "We're taking the issues out of politics and into society, with a view at looking at alternatives to violence as a way of getting your voice heard."
The event will feature poster presentations by students about what they learned as they explored the issues raised by the rise of hip-hop and how it affected their lives or the lives of those around them.
For more information about the Men of Color session, visit the website at http://www.csun.edu/dubois-hamer-institute-for-academic-achievement/events/bi-annual-men-color-enquiry-student-poster.