CSUN Students Receive Scholarships to Study Overseas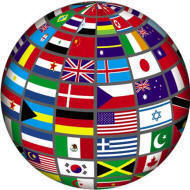 Four California State University, Northridge students have received scholarships from the United States Department of State to study overseas.
Freshman Sabree Edwards, of Northridge, and seniors Christina Jones, of Moreno Valley, and Kathleen Tuntisukharom, of Chatsworth, each received a $5,000 Benjamin Gilman International Scholarship. Edwards will be studying in China this fall, while Jones will be studying in Japan and Tuntisukharom will be studying in South Korea. Junior Stacey Martinez, of Van Nuys, received a $2,500 Gilman scholarship to study in South Korea.
The four CSUN students are among 860 American undergraduate students from 332 colleges and universities across the country who were selected to receive a Benjamin Gilman International Scholarship. The scholarship is sponsored by the U.S. Department of State's Bureau of Educational and Cultural Affairs.
"We are really proud of our students," said Marta Lopez, director of international programs in CSUN's International and Exchange Student Center. "These scholarships are going to provide these students opportunities to explore new cultures and gain a new understanding of the international aspects of academic life and life in general. In turn, they will serve as ambassadors for CSUN."
Edwards, who has not yet declared his major, will take part in a Chinese language program. Jones, an art major, will explore 20th century art in Japan. Martinez, a marketing major, will study Korean culture and language in South Korea. Joining her in South Korea will be Tunitsukharom, a political science major who plans to explore the country's language, culture and politics.
Gilman scholars receive up to $5,000 to apply to their study abroad or internship program costs. The program aims to diversify the students who study and intern abroad and the countries and regions where they go. The scholarship is named for former New York Congressman Benjamin Gilman, who retired in 2002 after serving in the House of Representatives for 30 years and chairing the House Foreign Relations Committee.
"Study abroad is a special experience for every student who participates,"
Gilman once said. "Living and learning in a vastly different environment of another nation not only exposes our students to alternative views, but also adds an enriching social and cultural experience. It also provides our students with the opportunity to return home with a deeper understanding of their place in the world, encouraging them to be a contributor, rather than a spectator, in the international community."
CSUN's International and Exchange Student Center promotes the development of individuals to enable them to pursue a challenging variety of roles and leadership opportunities, function in a wide range of environments and appreciate the great diversity of individual differences while pursuing their academic goals. It prepares students for an international, multicultural society and promotes an understanding and appreciation of the people, natural environment, cultures, economies and diversity of the world.