CSUN Hosts Panel Discussion with Guest Speaker Susan Burton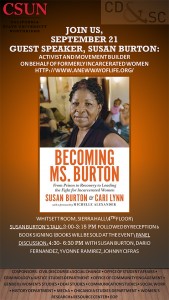 Civil rights activist and movement builder Susan Burton will be speaking on behalf of formerly incarcerated women, and reading from her recently released book "Becoming Ms. Burton" at California State University, Northridge on Thursday Sept. 21.
Her presentation will take place from 2 to 3:15 p.m. in the Whitsett Room, located on the fourth floor of Sierra Hall on the west side of the campus at 18111 Nordhoff St., Northridge.
"Today, we are in the midst of a critical moment in the criminal justice reform movement," Burton said in a post on the website of her nonprofit organization, A New Way of Life. "I believe this period will be noted as the time we positively moved the needle for a wide consortium of citizens, voters, stakeholders and policy makers with monumental shifts in consciousness, steering us from punitive, outdated and counterproductive approaches to wise, compassionate and redemptive forms of fairness."
After spending nearly two decades in and out of prison systems, Burton finally found help in October of 1997 at a rehabilitation center in Santa Monica, where she spent 100 consecutive days recovering from a drug addiction. Regaining sobriety inspired Burton to dedicate the rest of her life to helping women who have recently been released from prison.
"Drawing on my own experiences, I founded 'A New Way of Life' (ANWOL) re-entry project in 1998, dedicated to helping women, families and our communities break the cycle and heal from the formidable experiences of incarceration," her website reads.
The CSUN event was organized to help students and the community gain a better understanding of the issues and challenges faced by formerly incarcerated individuals, according to Marta Lopez-Garza, a CSUN professor in the Department of Gender and Women's Studies and the Department of Chicana/o Studies.
"I think there is a shared misunderstanding of people who have been imprisoned, and this event will help the CSUN population and the surrounding community to understand the circumstances that may lead to imprisonment, and the resulting hardships of having a prison record," Lopez-Garza said.
A reception and book signing will follow the initial presentation. There will be a panel discussion from 4:30 to 6:30 p.m. Copies of Burton's book will be available for purchase at the event.
This function is sponsored by CSUN's Civil Discourse and Social Change initiative, the Office of Student Affairs, the Department of Criminology and Justice Studies, the Office of Community Engagement, the Department of Gender and Women's Studies, the Department of Deaf Studies, the Department of Communication Studies, the Department of Social Work, the Department of History, MEChA, the Department of Chicano/a Studies, the Women's Research and Resource Center, The Educational Opportunity Programs and the Revolutionary Scholars.