Acclaimed Music Couple to Speak to CSUN Students about Entertainment Industry at Commerce of Creativity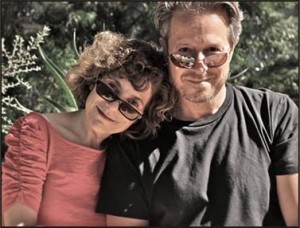 Power couple David Lawrence and Faye Greenberg, writers of High School Musical's hit song "Stick to the Status Quo," will be speaking at California State University, Northridge's Commerce of Creativity Distinguished Speaker Series in Nordhoff Hall room 107 on Monday, April 24 at 5 p.m.
Greenberg and Lawrence's lecture, "Don't Stick to the Status Quo: How to Stand Out in Entertainment," will discuss their careers both individually and together, ways to stick out in the entertainment world, how the industry is changing and much more.
A great launching point in the lecture, according to Mike Curb College Senior Director of Development Michael Ryan, will be the couple's experience writing songs for the High School Musical trilogy, which went quadruple platinum and was the best-selling CD in 2006 after the release of the first movie.
"High School Musical changed the trajectory of our career because it suddenly opened up doors for us and people sought us out who never would have known who we were," Greenberg said. "When the first movie came out, David said 'It's going to be a No. 1 album!' and I said 'That's silly.' I've never been happier to tell him I was completely wrong and he was completely right."
Individually, Lawrence and Greenberg have had their fair share of success and accomplishments. Lawrence, who recently received an Emmy nomination in 2016 for Best Original Score for the movie Descendants, composed the score for American Pie 1 and 2 and Van Wilder, as well as the television series Jericho and the HBO documentary Becoming Mike Nichols. Greenberg has written songs for Sesame Street, HBO's A Little Curious and the TV Land Awards tribute to Mary Tyler Moore, as well as the musicals such as The 1940's Radio Christmas Carol, The Great Brain and Superfudge.
However, the real spark happens when the two work together.
"Separately, I almost exclusively compose music for film and television, and for Faye, she has a bunch of other collaborators she writes songs with," Lawrence said. "But when we write songs together, that's our magic. We've had chemistry from the start. But like any good collaboration, it gets better in time."
Some of the couple's collaborations include songs for Disney movies and shows such as High School Musical 1, 2 and 3, Liv and Maddie and Teen Beach Movie. The pair also wrote songs for The Happy Face Murders, Christmas for Grandpa, Life With Judy Garland: Me and My Shadow as well as for recording artists Earth, Wind & Fire, Stephanie Mills and Diane Schuur.
"I have such a shorthand with David and that's obviously because we're a real-life couple as well," Greenberg said. "When I'm speaking with my other collaborators, many of whom I have long relationships with, I still have to think about what I'm going to say because I don't want to hurt somebody's feelings. With David, I don't think about what I'm going to say, I just communicate it."
"[David and Faye] are a well-known, ­successful couple who are serving as Artists in Residence this semester. Their major appeal is going to be to recent graduates and students with an interest in songwriting, composition, scoring and musical theatre," Ryan said.
Greenberg and Lawrence's lecture on April 24 won't be the last time the pair is on campus. The couple is serving as the Mike Curb College's Artists in Residence this semester.
"Faye and David expressed an interest in working with our students, so in a few weeks they're going to be mentoring our media and commercial composition students and helping them in their senior projects," Ryan said.
With a wealth of knowledge and experience going back two decades, Greenberg and Lawrence are ready to share what they've learned with the next generation of CSUN music students.
"What's most exciting to me about talking to students is that I find out something about myself that I didn't know," Greenberg said. "While I'm answering a question, I find I learn about my own processes and things I've done that I've never had a reason to think about before. When given the opportunity to articulate some of these things, I think I actually learn more about myself than the people asking the questions."