Associated Students Offers Free Summer Movie Screenings at CSUN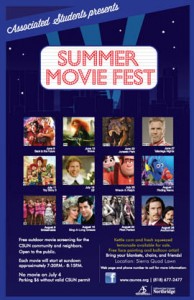 Looking for entertainment this summer? California State University, Northridge's Associated Students is offering outdoor movie screenings to the CSUN community and neighbors June 6 through Aug. 29.
Starting today, every Thursday evening (except July 4) on CSUN's Sierra Quad Lawn from about 7:30 p.m. (sundown) to 8:15 p.m. the community can enjoy a range of movies from family-friendly favorites like " Toy Story" and "Finding Nemo" to more adult comedies like "Talladega Nights" and "Bridesmaids."
"The goal of the program is to provide outdoor activity for the CSUN students, faculty, staff and community," said Kevin A. Mojaradi, coordinator of marketing and public relations for Associated Students. "It's also our goal to increase school spirit and a sense of community among the CSUN community."
Those attending are encouraged to bring a blanket or chair to sit on the lawn. Parking is $6 without a valid CSUN permit. Kettle corn and lemonade and other snacks will be available for purchase during the movie.
For more information and a complete listing of the movies, visit the Associated Students Movie Fest website.