CSUN Exhibit Explores 100 Years of Women's Engagement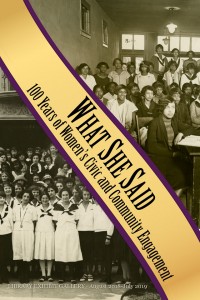 To mark the upcoming centennial anniversary of the women's suffrage movement, the Delmar T. Oviatt Library at California State University Northridge is celebrating 100 years of women's civic and community engagement with a special exhibition that opened Aug. 31 and has a grand opening reception on Thursday, Sept. 20.
"What She Said: 100 Years of Women's Civic and Community Engagement" runs from Aug. 31, 2018 to July 1, 2019 and explores the women's movement in the 19th and 20th centuries.
"The depth, scope, and scale of these contributions has had a tremendous impact on the lives of all Americans," said Ellen Jarosz, head of special collections and archives at the Oviatt Library. "We invite you to view selections from Special Collections and Archives that document women's civic and community engagement."
The suffrage movement, which helped gain women the right to vote in 1918 within the United Kingdom and 1919 within the United States (which ratified women's right to vote from the 19th amendment in 1920) enabled women to engage in public discourse and civic participation.
A grand opening reception will be held on Thursday, Sept. 20, from 4 to 6 p.m. in the Oviatt Library's Jack and Florence Ferman Presentation Room. Special guests include CSUN President Dianne F. Harrison and Los Angeles Councilwomen Monica Rodriguez and Nury Martinez, who graduated from CSUN in 1996 with a bachelor's degree in political science.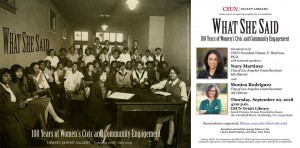 "What She Said" offers a historical look at the women's suffrage movement in the United States and the many women's organizations whose members worked to shape Los Angeles since 1920, and spotlights significant issues in women's organizations in Los Angeles. Archival materials are drawn from the Oviatt Library's Special Collections and Archives, the Joy Picus collection, the L.A. League of women Voters Collection, the L.A. Junior League Collection, the Encino Women's Club Collection, the Canoga Park Women's Club Collection and the Mothers of East Los Angeles Collection.
The reception will begin in the Library's Jack and Florence Ferman Presentation Room and end with a tour of the exhibit along with complimentary refreshments in the second Floor Library Exhibit Gallery.
To register to attend the opening celebration, visit the library's event page at https://library.csun.edu/events/what-she-said. Persons with disabilities needing assistance and Deaf and hard of hearing persons needing interpreters can call (818) 677-2638 in advance for arrangements.
The Oviatt Library is located at the center of the campus at 18111 Nordhoff Street. For parking information, please visit the Parking and Transportation web page.