CSUN Looks to Inspire Men of Color with Student Research Session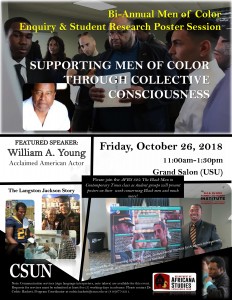 California State University, Northridge students will explore the collective consciousness of men of color at CSUN's biannual Men of Color Enquiry and Student Research Poster Session on Friday, Oct. 26.
The event will be held from 11 a.m. to 1:30 p.m. in the University Student Union's Grand Salon, which is located on the east side of campus.
"The whole campus and members of the community can get a chance to hear some of our students talk about the black male, which is a topic for the decades in terms of disparities," said Cedric Hackett, CSUN professor of Africana studies. "[Attendees] get the chance to gain knowledge as it relates to the black male, to start conversations on how to find better, innovative ways to serve and support black men."
Actor William A. Young, who is known for his roles on the television shows "Moesha" and "Code Black," will discuss what it means to be a man of color in today's society. Hackett will lead the event. He described his teaching ethic at CSUN, which uses "Kufundisha," which means "to teach" in Swahili and is "an innovative teaching approach for student engagement and experiential learning," the professor said.
"All of the colleges in the university are represented in my classroom," said Hackett. "Their topics can be anything from racial identity, the black man in the media, mass incarceration or interracial relationships."
Students from Hackett's "The Black Man in Contemporary Times" class will present, their work focusing on a variety of research-based questions regarding the black male. Students will use their research to delve into this year's Men of Color Enquiry topic, "Supporting Men of Color through Collective Consciousness." Collective consciousness is described as a fundamental concept that refers to the set of shared beliefs, ideas, attitudes which operate as a unifying force within society, according to Encyclopedia Britannica.
Since the spring of 2013, CSUN's Department of Africana Studies has hosted the biannual Men of Color Enquiry sessions.
American Sign Language interpreters and note takers are available for this event. Request for services must be submitted at least five days in advance. For a request or more information on this event, contact Hackett at cedric.hackett@csun.edu or (818) 677-3311.