CSUN Professor's New Novel Explores the Life of a Young, Gay Man Growing Up in the Cajun Bayou
If you read the foreward of Martin Pousson's new book, "Black Sheep Boy," closely, you'll get a hint of what lies ahead in his chronicle of a young gay man in Louisiana's Cajun bayou, whose actions seem to leave everything "out in the open for anyone to see" and lead him to who knows where.
Pousson, a professor of English at California State University, Northridge, called his book "a novel in stories": stories that tap into the Cajon bayou of his youth — with its unique mix of races, languages and cultures — and incorporate the mythologies, Christian and others, that permeate the region.
"I wanted to tell the story of the protagonist, but not only his story," Pousson said. "I wanted to tell the story of the people and culture of the region, of a history that is largely unknown. In many ways, it's a lost history, but it remains in mythology. When I came of age, there was a realization that this culture was dying because the language was disappearing. I wanted to find a way to preserve that history, that culture, that mythology."
The book's protagonist is a misfit, an outcast and a loner, but not a victim. He is the son of a mixed-race Holy Ghost mother and a Cajun French phantom father. In a series of stories, he encounters gender outlaws, drag queen renegades and a rogues' gallery of sex-starved priests, perverted teachers and murderous bar owners. To escape his past, he must create a new story for himself.
Aimee Bender, author of "The Color Master" and "The Particular Sadness of Lemon Cake," called "Black Sheep Boy" "beautifully impressionistic, and also raw, open and vulnerable."
"Pousson's bayou is such a frightening and vibrant place, generous and punishing, and the narrator's perspective pulls us in and brings the reader closer," Bender said.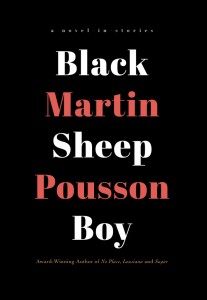 Pousson was awarded a fellowship from the National Endowment for the Arts in 2014 for a collection of interlocking short stories that chronicled the sexual coming of age of a young, mixed-race man in the bayous of Louisiana. The fellowship helped Pousson turn that collection into what is now "Black Sheep Boy."
"I went from story to story, sometimes completely re-writing them, to create the book,"
he said.
Pousson said the book was inspired by a short story he wrote about a young gay man escorting a girl to their high school prom.
"I wrote the story solely from the perspective of the boy and his vulnerability at that time," he said. "For him, it was traumatic to be brought into a romantic experience he was not seeking. It was something inflicted upon him by the normative expectations of high school for boys in the early 1980s.
"I remember sharing the story with close friends," Pousson said. "One of them turned to me with a question: 'What about the girl?' It was a great question to raise. It was absolutely right. My field of vision was so limited, it troubled me. I had to find a way to write stories about a boy coming out in that era and against all that adversity, and yet not be squarely and solely about him."
Pousson said he hopes his book, which falls into the "fabulism" school of writing, not only captures the boy's experience, but also "the experience of the place and everyone who occupies it.
"It's not just about a queer boy, but also a queer place — an outsider boy living in an outsider culture," he said. "The magic in the book arises not just out of a place, but also out of growing sexually as an other, a gender outlaw, and all the horrible, traumatic elements of that. I think that for those who are growing up gay, lesbian, bisexual, transsexual or intersex, there is a duality to how you live, to how you dream and yet tether yourself to reality."
Pousson and "Black Sheep Boy" were featured at last month's Los Angeles Times Festival of Books. Skylight Books is hosting a launch of the book at 7:30 p.m. on Thursday, May 26. The bookstore is located at 1818 N. Vermont Ave. in Los Feliz.