CSUN's Africana Studies Department Celebrates 49th Anniversary
California State University, Northridge is hosting its 49th annual Africana Studies Week, with events on Thursday, Nov. 1, Friday, Nov. 2, and Monday, Nov. 5, as a prelude the 50th anniversary of the department.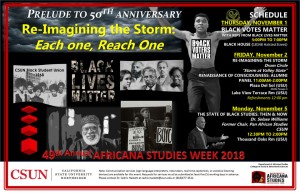 This year's theme, "Re-Imagining the Storm: Each One, Reach One," will explore the triumphs of blacks and African-Americans and the longevity of CSUN's Africana studies department. The event will take place in CSUN's University Student Union (USU), located on the east side of campus at 18111 Nordhoff St., Northridge.
Africana studies professor Cedric Hackett said CSUN's program has an ability to look at black studies as it relates to African ideological schools of thought.
"We've been able to sustain ourselves with our [students] who are interested in learning about the black experience," said Hackett. "We are a department that looks to create cutting-edge events that speak to the past, present and the future of our mission — to be in line with the university's mission of diversity."
Representatives from the Black Lives Matter movement will discuss the importance of black voters from 5 to 7 p.m. on Thursday, Nov. 1.
Friday's session will start at 11 a.m. in the USU's Plaza Del Sol with a drum circle featuring dancing performed by CSUN's African Students Organization and a step team performance by CSUN's Alpha Phi Alpha fraternity.
The performance will be followed by the "Renaissance of Consciousness" panel, which will be moderated by Africana studies professor Monica Turner in the USU's Lakeview Terrace room. The panel will include seven alumni and members of the community, including Jabari Ali, a music supervisor known for his work on "The Equalizer 2" and "Training Day," and Troy Strange, Mayor Pro Tem of Indio.
The day will include a showing of a short clip from "Storm at Valley State," a documentary describing the student organized protests that occurred at the university in 1968. CSUN faculty members will recount their experiences of protest demonstrations, to set the foundation for the event.
On Monday, Nov. 5, at 12:30 p.m., Selase Williams, former chair of what was then CSUN's Pan African studies and a professor of English from 1994-2005, will conclude Africana Studies Week festivities with a lecture on the state of black studies. His discussion will take place in the Thousand Oaks room.
Hackett said the Africana studies department, which was founded in 1968, gives students the ability to discover "racial uplift and pride of African-Americans and people of color in this country."
Communication services including sign language interpreters, note takers, real-time captionists and assistive listening devices are available for this event. Requests for services must be submitted at least five working days in advance of the event.
For any questions or to request services contact Cedric Hackett at cedric.hackett@csun.edu or (818) 677-3311.