CSUN's Martin Pousson Wins PEN's Literary Award for Fiction
---
A "fabulist" coming-of-age novel about a queer mixed-race boy in the bayous of Louisiana, written by California State University, Northridge English professor Martin Pousson, has won the 2017 PEN Center USA Fiction Award.
The West Coast center of PEN International — the world's oldest international literary and human rights organization — announced today that Pousson won the award for his book "Black Sheep Boy."
"I am so humbled and heart grateful to PEN Center USA for this incredible, unexpected honor," Pousson said. "It means all the more to me coming from a literary foundation with an activist mission to defend the unjustly jailed, the unlawfully censored and the unfairly persecuted. PEN Center USA stands with outsiders, journalists and all writers who dare speak truth to power."
Elizabeth Say, dean of CSUN's College of Humanities, said Pousson's colleagues were thrilled he was receiving the award.
"We have long known what a talented writer and teacher he is and celebrate this recognition of his talents by his peers," she said.
The other finalists for the literary award for fiction were "The Association of Small Bombs" by Karan Mahajan, "Sweet Lamb of Heaven" by Lydia Millet and "Lions" by Bonnie Nadzam.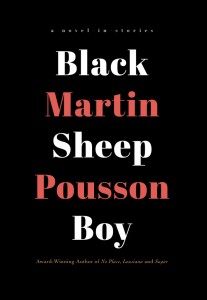 Pousson formally will receive his award at PEN Center USA's 27th Annual Literary Awards Festival on Friday, Oct. 27, at the Beverly Wilshire Hotel. Among the evening's activities will be the presentation of a lifetime achievement award to Margaret Atwood, author of such works as  "The Handmaid's Tale," "Oryc and Crake," "The Blind Assassin," "The Robber Bride," "The Year of the Flood," "MaddAddam" and several others. The night also will include the presentation of the Freedom to Write Award to New York Times journalists Emily Steel and Michael Schmidt. They will receive the award from comedian and talk show host Chelsea Handler
"Black Sheep Boy" was published by Rare Birds Lit, a small, independent LA-based press with limited funds for advertising and promotion. Pousson self-funded part of a limited tour for his book, which garnered only a couple of early reviews.
"The book is very much about defending a queer identity that is both personally and socially queer," he said. "It's about a teenager who pushes against assimilation and conformity to remain an individual, and it's about defending Cajun culture and all people who are outsiders."
Pousson called "Black Sheep Boy" a novel-in-stories: stories that tap into the Cajun bayou land of his youth — with its unique mix of races, religions, languages and cultures — and that incorporate the mythologies and legends that permeate the region.
The book's protagonist is a misfit, an outcast and a loner, but not a victim. He is the son of a mixed-race Holy Ghost mother and a Cajun-French phantom father. In a series of stories, he encounters gender outlaws, drag queen renegades, and a rogues' gallery of sex-starved priests, perverted teachers and murderous bar owners. To escape his past, he must create a story for himself.
Pousson was awarded a fellowship from the National Endowment for the Arts in 2014 for a selection of interlocking stories that chronicle the sexual coming-of-age of a queer mixed-race boy in the bayous of Louisiana. The fellowship helped Pousson turn those stories into what is now "Black Sheep Boy."
The book was inspired by a short story Pousson wrote about a gay boy escorting a girl to their high school prom.
"I remember sharing the story with close friends," Pousson said last year upon the release of his book. "One of them turned to me with a question: 'What about the girl?' It was a great question to raise. It was absolutely right. The story had only been about the boy. My field of vision was so limited that it troubled me. I had to find a new way to write stories about a boy coming out in that era and against all that adversity, and yet to write those stories not squarely and solely about him."
Pousson said in 2016 that he hoped his book, which falls into the "fabulism" school of writing, not only captures the boy's experience, but also "the experience of the place and everyone who occupies it.
"It's not just about a queer boy, but also about a queer place — an outsider boy living in an outsider culture," he said. "The magic in the book arises not just out of a place but also out of a person growing up as an other, a gender outlaw, with all the horrible, traumatic elements of that experience. For those who grow up gay, lesbian, bisexual, transsexual or intersex, there is a duality to how you live, to how you dream and yet still tether yourself to reality."