The Museum of the San Fernando Valley Honors Powerhouse Alum Leah Cartabruno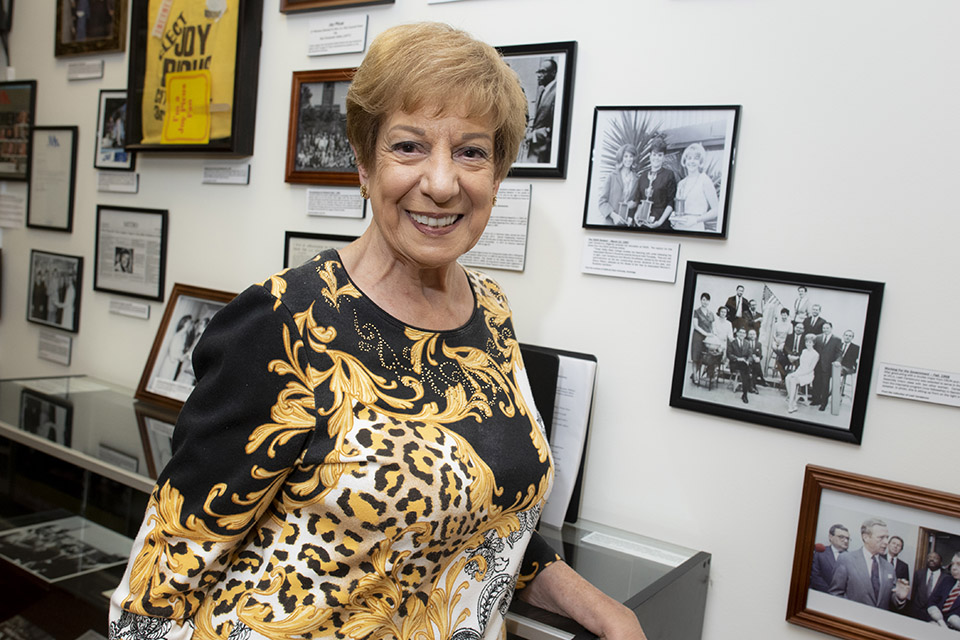 Leah Cartabruno poses in front of archived images at the San Fernando Valley Museum. Photo by Lee Choo.
CSUN alumna Leah Cartabruno's extraordinary work has led to a unique honor. After decades of special contributions to various levels of government, Cartabruno '65 (Political Science) is one of two women being featured in an exhibition series aptly named "Powerhouse Women of the San Fernando Valley," at The Museum of the San Fernando Valley.
Cartabruno shares the recognition with another familiar CSUN face, Joy Picus, who was the first woman to represent the San Fernando Valley as a Los Angeles City Council member in 1977.
In 1968, just a few years after graduating from CSUN, Cartabruno was the first woman hired as a committee consultant to the California State Legislature. She researched and wrote legislation, such as the Alliance to Save Energy. Subsequently, she was an appointee of then-President Jimmy Carter. According to Cartabruno, CSUN taught her how to merge her love of writing and politics into a successful career that began with sports reporting in high school.
An Introduction to Journalism 
As a kid, the self-proclaimed Valley girl told people she wanted to be a lawyer.
"In those days, women were teachers and nurses, so [people] would be surprised and look at my parents and say, 'Where did you get this kid?'" said.
Family memories include going to Rams football games at the Los Angeles Memorial Coliseum. Her dad would encourage her to tell him what was going on in the game, and that started her introduction into the world of sports journalism.
"I won a scholarship to college for writing play-by-play accounts of high school football for what was called the Van Nuys News and Greensheet then, now the L.A. Daily News," Cartabruno said.
When she arrived at San Fernando Valley State College (now CSUN), she jumped fully into campus life — joining the student body as a board representative and The Sundial as a sports editor.
From CSUN to Legislation   
After CSUN, Cartabruno taught history and government at Chatsworth High School. In 1968 she was chosen to be an intern for the California State Assembly. In 1969, Cartabruno was hired as a professional committee consultant in the assembly, breaking barriers as the first woman appointed to such a position.
As a committee consultant, Cartabruno worked with various assembly members and officials to research, compose and analyze legislation.  Eventually, she was appointed to a position with President Jimmy Carter in Washington D.C.  When his term ended, she worked with Illinois Sen. Charles Percy on his Alliance to Save Energy, which advocated saving energy through public service events and commercials.
"We did a public service TV ad with Gregory Peck that talked about saving energy, and there is a brochure with Gregory Peck's picture on it in the case," Cartabruno said.
She returned to California and the California State Senate in Sacramento. There, she worked on legislation and acts such as the prostate cancer research act. The inspiration for the act came to Cartabruno after she realized research into men's cancer issues was lacking.  At the time, she was a committee consultant at the California Senate Health Committee and served on the California Breast Cancer Research Council.
Cartabruno credits CSUN for giving her the ability to develop her ideas in a professional setting and giving her the tools to envision a future in the political world that she could support with greater integrity and the desire for change.
"I was only able to accomplish what I did because I worked for powerful people," Cartabruno said. "I think 'powerhouse' translates to learning your profession, maximizing your facts and support from officials to make knowledge to make difficult social changes."
For more information on The Museum of the San Fernando Valley and the exhibit, visit the museum's website.