A Measure of Success: CSUN Alumnus Ty Tramblie Is a Pro Volleyball Champ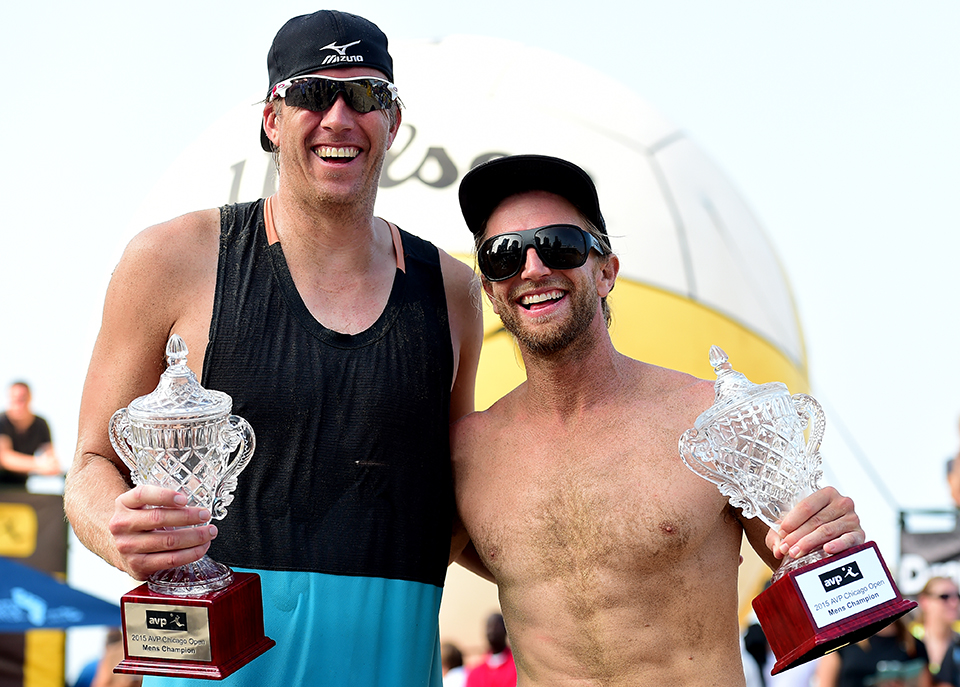 CSUN Alumnus Ty Tramblie, right, celebrates his AVP tournament title in Chicago with partner Brad Keenan on Aug. 30. (AVP/Robert Beck)
It was an underdog mentality — the same one that California State University, Northridge alumnus Ty Tramblie '04 (Humanities) has embraced for most of his volleyball-paying career — that helped him win his first-ever AVP Pro Beach Volleyball title Aug. 30 in Chicago.
Tramblie built his career, he said, on proving doubters wrong.
"I'm 6 feet tall [in an ankle brace] and volleyball shoes," Tramblie joked.
It's his size — 5 feet, 10 3/4 inches tall, without the shoes — that forced Tramblie to persevere after being judged too small to succeed in a tall-person's game.
Even prior to coming to CSUN in 2000, Tramblie said he faced doubters. He anchored his California Interscholastic Federation (CIF) championship team at Newport Harbor High in 1999 and earned CIF Player of the Year honors in his school's division, but the only NCAA Division I school that recruited the setter was CSUN.
"I knew in the volleyball world that I was [viewed as small], and people didn't think I could set or block or set a tight ball," Tramblie said.
CSUN men's volleyball head coach Jeff Campbell saw more. 
"I wanted him because he had that chip on his shoulder," Campbell said. "He was a hard worker with great leadership qualities. The only thing he was lacking was size at the net. But he had long arms for a kid [his size], which made up for a couple of inches."
Tramblie, who played for the Matadors from 2000-2004, called CSUN a "breath of fresh air," not necessarily because of the opportunity to play at the Division I level — but for the contrast it offered to his childhood in Newport Beach, where things seemed to come easy. CSUN provided an environment that opened Tramblie's mind, he said.
"At Northridge, we were always the underdog," he recalled. "We had hand-me-down shorts and huge, stretched-out jerseys. It was the ability to fight and believe in yourself, and never give up and find a way."
Going into his senior year, coaches told Tramblie that he might have to make a position change to libero, where he would play in a defensive position and away from the net. It was through hard work, he said, that he held onto his setter position.
"I came into practice every day to win," Tramblie said.
That senior year, he earned the American Volleyball Coaches Association second team All-America honors, as well as honorable mention All-America honors from Volleyball Magazine.
Campbell said Tramblie helped develop a team culture that led to future CSUN success, such as a No. 1 ranking in 2008 and an appearance in the NCAA Championship semifinals in 2010.
Tramblie has played on the AVP Tour off and on for a decade, beginning in 2003 with two events. He has played in 88 tournaments with the most elite beach volleyball players in the world.
His best finish was second in 2012, also in Chicago. In late August, he returned to the windy city. However, right before the tournament, his regular partner found a different teammate. Veteran Brad Keenan, a 6-foot-8-inch former collegiate rival from Pepperdine University called Tramblie and suggested they play together. The new duo won an extremely tight final.
"The emotion during the match, I was in the zone and feeling good. Not fearful. I was able to let it flow and perform well," Tramblie said. "Afterward, there was a huge sense of relief. I've got second place before and been close in other tournaments. [I was] so thankful and [felt] so good to represent for all the short people. … There are limitations in the mind, but it doesn't mean I have to be limited. The real key is perseverance."
His former coach, who said he believes Tramblie is the first CSUN alumnus to win an AVP tournament, was watching.
"I watched the game on NBC," Campbell said. "It was very cool to see a Northridge guy win an AVP tournament."
With a pro championship under his belt, the CSUN graduate, who also coaches club volleyball in Orange County, is focused on the next one.
"[The win] helps in terms of confidence and believing in yourself," Tramblie said. "It helps validate you."