Zoom Backgrounds Show CSUN Spirit During Virtual Meetings, Learning
For the full selection of Zoom backgrounds, check the CSUN Zoom backgrounds page.
While many of us are quarantined in our homes, sheltered Matadors can feel like we're back on campus with new CSUN-specific Zoom video-conferencing backgrounds.
Zoom's virtual background feature allows users to upload and display an image or video to serve as your background during a Zoom Meeting.
The spirited backgrounds are available below, handy for all students, alumni and employees.
The backgrounds include options for both photos and graphics that show off the campus pride. The first batch of options includes two graphics and two photos.
See them and download below.
"CSUNset Over Palm Trees"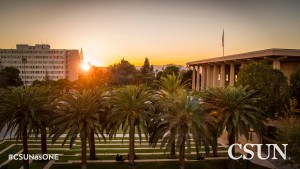 Download CSUNset Over Palm Trees.
"Bookstein Hall at Night"

Download Bookstein Hall at Night.
"CSUN Matador"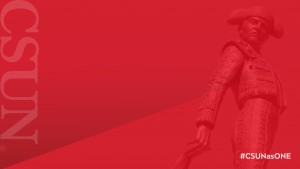 "Northridge Mountains"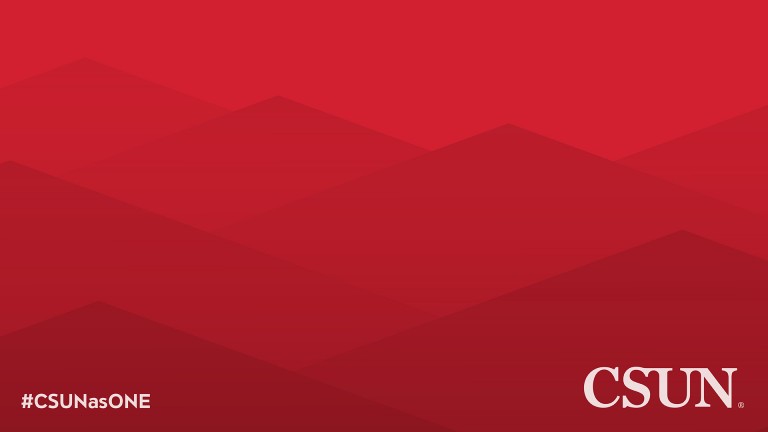 Download Northridge Mountains.
The backgrounds include the new #CSUNasONE hashtag that we will use on Facebook, Twitter and Instagram to highlight resources available to Matadors and efforts to help each other out. The university is here for the Matador community — and we know you will be there for each other, too. We hope to hear your stories of how the CSUN community has helped, encouraged or given you something to look forward to amid this new reality.
The university plans to share three batches of Zoom backgrounds, with one released every two weeks.
Grab some now and trade your home office view for some breathtaking CSUN scenes.
In addition to the CSUN-themed backgrounds, CSUN students from IntersectLA have created a variety of other available background options.