CSUN Ranked Among Top 25 Rising Star Institutions for Research in North America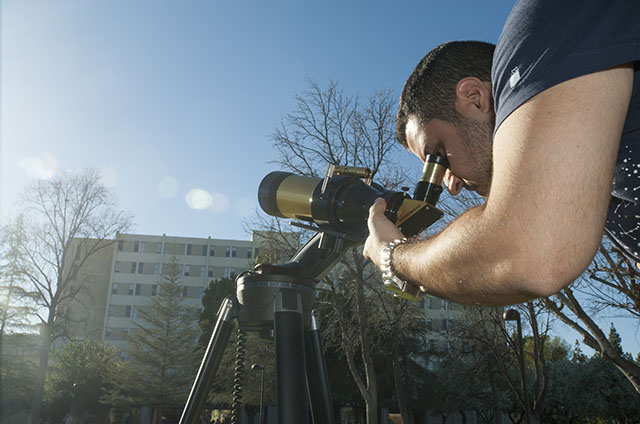 CSUN physics graduate student Menoa Yousefi observes the sun through a portable solar telescope. Photo by Ruth Saravia.
California State University, Northridge holds this year's record for the largest increase in research publications rates in North America, according to a listing of top tier peer-reviewed journals selected by the journal Nature.
The list, created by Nature Index, is made by analyzing research institutions in North America and their research output percentages from 2012 to 2015. Articles in chemistry, life sciences, physical sciences, and earth and environmental sciences published in journals chosen by Nature were the markers.
CSUN Dean of the College of Science and Mathematics Jerry Stinner said being listed among the top 25 Rising Stars is a great honor for the university.
"What a tremendous validation of everything we've been trying to accomplish in the college, in all five departments," he said.  "To say that I'm proud of the faculty is a complete understatement. For Nature to recognize the incredible achievements and hard work of my faculty is beyond anything I could have wished for. The external recognition by a premier science journal is simply incredible."
CSUN held the highest percent increase in publication rate at more than 190 percent, followed by National Aeronautics and Space Administration (NASA), the U. S. Geological Survey, Carnegie Mellon University and Stanford University. CSUN is the only public institution of higher education in California listed.
The college includes the Departments of Biology, Chemistry and Biochemistry, Geological Sciences, Mathematics, and Physics and Astronomy. Stinner noted that research by faculty in all of the departments contributed to the listing.
CSUN biology professor and cancer researcher Steven Oppenheimer, who has taught at CSUN for more than 45 years, said the listing had him "just flabbergasted."
"This is a blockbuster," he said. "I think this is the most important research advance for CSUN in the history of CSUN. In my 45 years here, I've never seen anything like this — ever. It shows that of all organizations in the country, CSUN made the greatest advance in research from 2012 to 2015 ­— more than Stanford, more than Harvard, more than anywhere! This is unbelievable. It is simply amazing. It's a reflection of the great work that is being done here."
Fellow cancer researcher Jonathan Kelber, a CSUN assistant professor of biology, added that the listing is a major bonus for the university because of Nature's high profile.
"From my understanding, the list is generated from looking over publications in certain journals. That's a really important caveat," he said. "Nature Index identifies certain journals to watch that have big impacts in science. What they're doing is not looking at all publications. [Nature Index] preselects which journals they are looking at. Many of these journals are high profile. They are banking on these journals [to be] predictive of current or past success of institutions. In that regard, it's more exciting … I think it is encouraging."
CSUN anthropology professor Hélène Rougier's recent article on the origins of Eastern European Neandertals received the university's highest score in outreach, called an altemetric score, according to Nature Index.
Rougier, whose department is in the College of Social and Behavioral Sciences, expressed gratitude for the listing and said the work of CSUN's researchers speaks for itself.
"I'm very thankful that people are interested in this work," she said. "I'm sure it's going to help to present and share this kind of research with a larger audience. CSUN has been supportive of my work. I'm very glad for CSUN, because we try to do research and I really feel support from the university."
Kelber noted that Stinner provided him with exceptional support when coming to the university, which led the professor and his team of students to find causes of certain forms of cancer in their research, he said.
"Jerry Stinner, our dean, has been really giving faculty the resources — space and financial — to get research programs started up," he said. "Our lab wouldn't have been successful in getting the grants that we have or the research we did unless we had startup funds to buy the equipment. It is a big part, having a dean who has placed a huge priority on scholarship. He wants us to be engaged in the highest level of scholarship possible and has supported us for it."
CSUN's place on the Nature list is also thanks to support from CSUN's leaders, including Stinner and biology department chair Larry Allen, Oppenheimer added.
"The way in which Jerry Stinner, Larry Allen and others have done this is by hiring scores of top faculty, first-choice faculty, for over a decade and supporting them with the best support anywhere," he said. "This support starts with the president and the provost and the dean and the chair of biology. [CSUs] are not generally known for massive ​​quantities of research, but this [ranking] shows that here we are. Cal State Northridge — the greatest increase in top papers of any other place in North America. It is simply amazing."
Allen reiterated that the work of the college for the past decade toward supporting its faculty has contributed to having CSUN on the listing.
"But most importantly," he said, "it reflects the success of our undergraduate and graduate-based research model in producing both great science and invaluable training opportunities for our students."