Feds Award CSUN $1.1 Million for Science Programs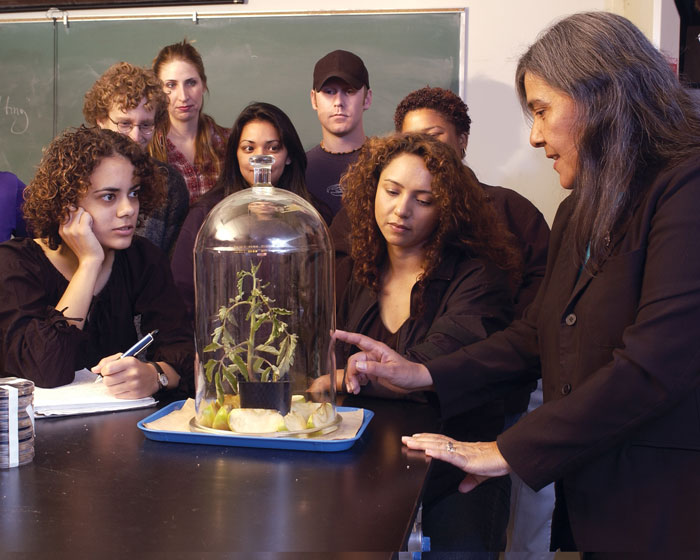 Biology professor MariaElena Zavala (right) working with students. Photo by Lee Chool
The federal government has awarded California State University, Northridge more than $1.1 million in grant money for programs that encourage underrepresented students to consider careers in the sciences.
CSUN's Maximizing Access to Research Careers Undergraduate Student Training in Academic Research (MARC U-STAR) program was recently awarded $421,512 from the National Institutes of Health (NIH). The university's Research Initiative for Scientific Enhancement (RISE) also was awarded $723,842.
Founded in 1990, MARC's goal is to increase participation of traditionally underprivileged minority college students in biomedical science careers. The program began supporting four students and has since grown, with the help of the NIH, to fund up to 16 students. The students chosen as MARC scholars are mentored throughout their journey at CSUN and given access to MARC program-developed courses and workshops.
"The university's No. 1 priority is student success," said biology professor MariaElena Zavala, director of the MARC program. "CSUN has a large, diverse student body, and they are the next generation of American scientists."
CSUN is one of 18 universities that participate in the MARC U-STAR program, which maintains a rich history of preparing students for Ph.D. programs in basic biomedical and behavioral sciences. In addition to mentoring opportunities, students participate in various research projects and receive professional guidance and graduate school preparation.
"CSUN MARC students have an 89 to 90 percent success rate in Ph.D. programs, with students earning advanced degrees from UC Berkeley, UCLA, UC Irvine, UC San Diego and Johns Hopkins University," said Zavala.
The RISE program at CSUN focuses on student development from incoming freshmen through graduate students. For incoming freshmen, RISE supports student participation in Math and Language Arts summer workshops, while MARC supports faculty and teaching assistants who work with these students.
Through this intermingling of programs and scholars, students – from second-semester freshmen to graduate students – are able to participate in authentic research experiences while developing skills that make them competitive graduate school applicants.