Five CSUN Alumni Honored as LAUSD Teachers of the Year
California State University, Northridge was well represented July 20 with five alumni among the 22 teachers honored by the Los Angeles Unified School District (LAUSD) at the annual Teacher of the Year Luncheon.
Roxana Brock '08 (Teaching Credential), '09 (Early Childhood Special Education); Dana Brooks '07 (Teaching Credential); Jonathan Rubio-Garcia '16 (M.A., Mathematics Education); Ximena Rodriguez '08 (Educational Administration), '16 (Credential); and Grace Maddox '05 (Teaching Credential), M.A. '11 (Education) were honored by LAUSD at the University of Southern California.
"Having five alumni from the Michael D. Eisner College of Education honored at the LAUSD Teachers of the Year luncheon illustrates the CSUN legacy of excellence," said Shari Tarver-Behring, interim dean of the Eisner College. "We pride ourselves in the outstanding work by these teachers and view this honor as a testament of their commitment to student success. This is also a prime example of how CSUN continues to have one of the best teacher-preparation programs in California."
This notoriety continues a trend where CSUN alumni have been honored annually by the second-largest school district in the country. Though they are all products of CSUN, the five honorees traveled very different paths to educating young minds and reaching this great honor. Here are their stories.
Roxana Brock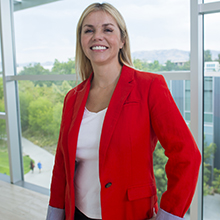 Brock teaches special-needs children age 3 to 5 at Telfair Avenue Elementary School in Pacoima. She has been a special education teacher for 20 years. Receiving this recognition from the district placed her in fine company.
"It's an honor to be recognized, especially to be recognized for something that I love to do," Brock said. "It's [not only] validation for the things I do every day, but [also inspiration] to improve as a teacher."
Brock said she taught special education in the jungle of her home country of Argentina before emigrating to Northridge in 1999, without knowing the English language.
"I brought with me [from Argentina only] my teaching credential. I had no English … so I went back and took all the English as a second language (ESL) classes from ESL 1," Brock said.
Once she was fluent in English, Brock applied to CSUN based on recommendations from friends and community members.
"I decided to enroll at the college that everyone recommended to me," Brock recalled. "And I was not disappointed. I love CSUN."
Along with her husband, who has supported her throughout her academic journey, Brock said CSUN has been one of the biggest support systems in her tenure as a teacher.
"CSUN has helped me since I started my credential in 2003," Brock said. "I really wouldn't be here if I didn't have the support of Dr. Deborah Chen and Dr. Michele Haney. They are very special to me, even today."
Dana Brooks 

A social studies high school teacher at John H. Francis Polytechnic Senior High School ("Poly High") in Sun Valley, Brooks practiced law for 20 years before switching careers to public school education.
"I wasn't sure how I would like teaching because I came from law, but I feel like I've made a difference," Brooks said. "I have one of my former students studying law in the fall, and seeing that and how I was able to guide him was amazingly rewarding."
Brooks chose to study for her teaching credential at CSUN because of the welcoming nature of the Eisner College faculty and staff. The college staff showed her how to apply and enroll in courses and gave her the tools needed to be successful, she said.
"I went to CSUN a week after classes started and presented myself to the Eisner College school office and said, 'Hey, can I enroll in your credential program?'" Brooks said. "[The college] was amazing and supportive — I enrolled in their classes, which gave me the chance to teach."
Brooks recalled the cultural studies and pedagogy courses as her favorite classes because they gave her the history and background on Title I students. Title I, part of the federal Elementary and Secondary Educational Act of 1965, provides funding to states and districts to improve education for disadvantaged students.
"I had a pedagogy class taught by a history professor that I distinctly remember fondly and a cross-cultural class as well, and they both helped me better understand the kind of students I would be teaching in Los Angeles," Brooks said.
Brooks added that she is grateful for Poly High, noting that teaching is one of the most enriching things in her life.
"It's the students — they get me up in the morning, I think about them every day and how I can be a better teacher and help them with their learning," Brooks said. "They're amazing, they're sponges, they're funny and heartbreaking sometimes, but it's the students."
Jonathan Garcia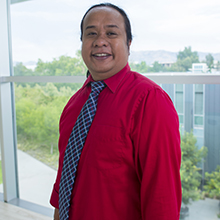 The students inside Garcia's math class at Arleta High School in Arleta aren't the only ones learning each day. Part of Garcia's philosophy — and one that's led to him being named an LAUSD Teacher of the Year — is to treat teaching as a learning process.
"As teachers, we continue to learn who our students are and try and adjust [our teaching style] to fit their needs," Garcia said. "If the curriculum you did last year doesn't fit the students that you have this year, then you have to change it.
"[I've learned that] having a personal rapport with students is also essential," Garcia added. "Knowing the students' strengths and building a relationship helps them to be more open to learning and becoming free thinkers."
Originally from the Philippines, Garcia moved to LA in 2007. His education at CSUN helped mold him into the teacher he is today, Garcia said.
"The education I received at CSUN better prepared me in teaching mathematics to diverse populations, and allowed me to improve my research skills by helping me reflect on my teaching practice," Garcia said. "The program also helped me know my students' needs and guide them in achieving their goals of being college ready."
Garcia's biggest reward as a teacher is having former students express the impact he's made in their lives, he said.
"Students I've taught have come up to me many times, and the feeling is amazing that I was able to touch people's lives in a positive way," Garcia said. "It drives me to continue on further."
Grace Maddox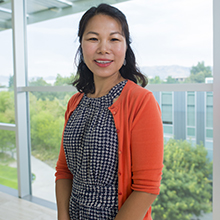 When Grace Maddox was 15 years old, her high school art teacher, Mrs. Butcher, influenced her to teach. Years later, Maddox followed her advice — she went to the Art Center of College of Design for art and California State University Northridge to obtain her credentials.
At the Art Center College of Design, Maddox earned her undergrad in illustration. She developed strong skills in figure drawing, painting and perspective. In addition, she learned how illustrations have the ability to define social, political and cultural ideas, making them an ideal solution for creative and communications projects.
At CSUN, Maddox received her teaching credential and received her master's in educational leadership.
She was motivated by her professors and looked up to them as role models.

"Once I began studying at CSUN, I understood why so many great teachers graduated from there," she said. "My professors were all very knowledgeable and inspirational — which made me want to become a teacher like them."
One of the most important lessons Maddox learned from professors was how to create a safe and inviting classroom to make her UCLA Community School students eager to learn.
"[Students will] try to meet you half way," she said. "[They will] try and see themselves get better and better. That gives them confidence. That confidence makes them want to come to school."
As a South Korea native, Maddox is also grateful for the support she received from the Michael D. Eisner College of Education, which provided her a Bilingual Teacher Scholarship. The scholarship offers individuals of Asian descent and those who maintain a 3.0 grade point average with scholarships for tuition, textbooks and other expenses.
With the scholarship's help, she earned her master's without financial worries.
"While at CSUN, I truly felt that the school wanted all of us to succeed [and] become great teachers," said Maddox.
Maddox is humbled to have received the Teacher of the Year Award and honors Mrs. Butcher, the Art Center College of Design and CSUN for helping her get where she is today.
"It's truly an honor, and I'm grateful," said Maddox.
Ximena Rodriguez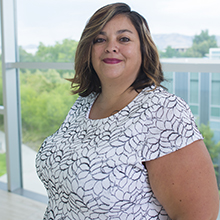 Throughout her elementary and middle school years, Rodriguez and her family hardly had the opportunity to set down roots. Originally from Chicago, Rodriguez constantly moved from place to place before ultimately calling the San Fernando Valley — and CSUN — home.
"I chose to come to CSUN because it had a wonderful reputation, and I received a warm welcome when I first stepped onto campus to explore my opportunities," she said.
To Rodriguez, CSUN provided not just a valuable education, but a cornerstone in her life.
"I know I can always return and connect with educators when there is a new challenge before me," she said. "I have connected with superstars in the world of education thanks to the programs offered at CSUN, and I am always grateful for the support."
As an English teacher at James Monroe High School in North Hills, Rodriguez said she firmly believes in the power of writing. She encourages her students to write every day and consistently has her classroom stocked full of pens, pencils and paper.
"I believe in using writing as a tool for growth and learning," Rodriguez said. "Usually, the writing will take a stress-free form like journaling or a quick-write, so that my students develop confidence in their writing."
Rodriguez's dedication in the classroom led to her nomination for the district's highest teaching honor.
"Every time I stand next to my seniors at graduation, I feel such pride and joy in their accomplishments," she said. "Being recognized as a Teacher of the Year makes me feel that same pride and joy a thousand times over."