Second Annual African Studies Symposium to Explore: Gender, Youth and Social Change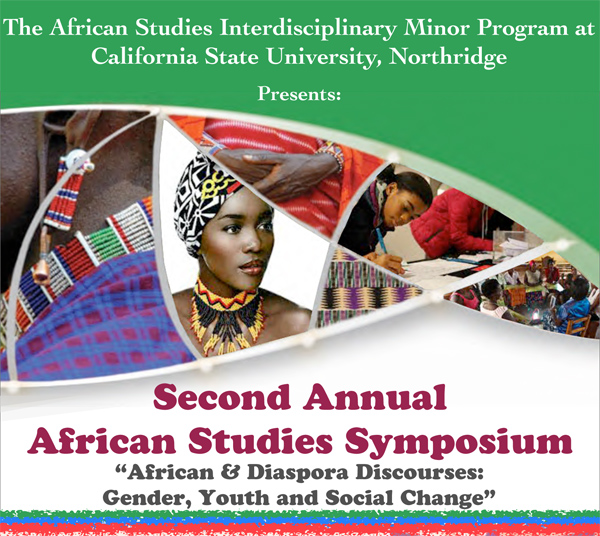 The African Studies Interdisciplinary Minor program will host its second annual African Studies Symposium, "African and Diaspora Discourses: Gender, Youth and Social Change," tomorrow, April 30. The event will be held in the University Student Union's Northridge Center from 8:45 a.m. to 4:30 p.m. with speakers and panels exploring the theme of the symposium.
The keynote speaker at the symposium will be Kathleen West, a lecturer in the Department of Preventative Medicine at USC's Keck School of Medicine and a research scholar. West attended college in Michigan and Sierra Leone and continues her field work in medical anthropology, concentrating on the maternal, child and mental health issues in Sierra Leone region.
Tom Spencer-Walters, coordinator of the African Studies Interdisciplinary program and event coordinator, said West will discuss how African women are achieving personal and societal development through creative initiatives without the necessary administrative or political authority.
There will be four panels covering such topics as women, war and social transformation, hip-hop, social change, gender, youth and empowerment in rural and urban Africa and student research in African and diaspora studies. Speakers will include CSUN faculty from various disciplines and students in the minor program.
"The goal of the symposium is threefold: to recruit minors for the African Studies Interdisciplinary Minor; to contribute to the mission of a diversified education at CSUN; and thirdly, to expand students' knowledge about Africa and its many diasporas while giving them the opportunity to utilize this knowledge in various capacities both here at CSUN and in the general community," said Spencer-Walters.
The event is open to the campus and community. Spencer-Walter's said last year's symposium was a "resounding success" with standing-room only for each session. For more information or to RSVP, please email Tom Spencer-Walters.