CSUN's 2015 Honored Faculty Reception
CSUN will recognize its extraordinary faculty at the annual Honored Faculty Reception on Monday, May 18, from 1:30 to 3:30 p.m. in the University Student Union Grand Salon. Faculty receiving special recognition include Rafi Efrat (Accounting and Information Systems) and Yohannes Shiferaw (Physics and Astronomy), who will be presented with the Outstanding Faculty Award; Kenya Covington (Urban Studies and Planning) and Holli Tonyan (Psychology) will receive the Distinguished Teaching, Counseling, or Librarianship Award; Sue Sears (Special Education) will receive the Extraordinary Service Award; Thomas Devine (History) will receive the Preeminent Scholarly Publications Award; Stephanie Satie (English) will receive the Exceptional Creative Accomplishments Award; and Shad Willingham (Theatre) will receive the Visionary Community Service-Learning Award.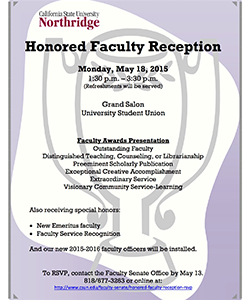 To RSVP, visit http://www.csun.edu/faculty-senate/honored-faculty-reception-rsvp.
The following faculty will be recognized for milestone years of service:
Faculty Completing 25 Years of Service
Frankline Augustin                 (Health Sciences)
Peter Bellin                             (Environmental and Occupational Health)
Nancy Burstein                       (Special Education)
Ana Cadavid                           (Physics and Astronomy)
Deborah Chen                         (Special Education)
Randy Cohen                          (Biology)
Irene Cota                               (Elementary Education)
Mary Curren                           (Marketing)
Steven Dan*                            (Computer Science)
William de la Torre                 (Educational Leadership & Policy Studies)
Michael Ferril                         (Music)
Rebecca Litke                          (Communication Studies)
John Magnussen                     (Music)
Brian Malec                            (Health Sciences)
Benjamin Mallard                   (Electrical and Computer Engineering)
James Mitchell                        (Political Science
Juana Mora                             (Chicano/a Studies)
Vicki Pedone                           (Geological Sciences)
Matthew Radmanesh              (Electrical and Computer Engineering)
Christopher Sales*                  (Computer Science)
Mary Schliff                           (Music)
Sue Sears                                 (Special Education)
Scott Shepard                          (Special Education)
Zhixin "Justine" Su                 (Educational Leadership & Policy Studies)
Ramin Vakilian                        (Mathematics)
Veda Ward                              (Recreation and Tourism Management)
Alan Wright                            (Recreation and Tourism Management)
Li Ye                                       (Accounting and Information Systems)
John Yudelson                        (Management)
Gholam-Ali Zakeri                  (Mathematics)
Faculty Completing 30 Years of Service
John Adams                      (Modern & Classical Languages & Literatures)
Ali Amini                          (Electrical and Computer Engineering)
Behzad Bavarian               (Manufacturing Systems Engineering & Mgt.)
Ali Behnezhad                  (Systems and Operations Management)
Robert Cleve                     (History)
Michael Gardner               (Psychology)
Marcia Henry                   (Research, Instruction & Outreach Services
Oviatt Library)
Gretta Madjzoob              (Health Sciences)
Gloria Melara                    (Computer Science)
Maura Mitrushina            (Psychology)
Son Pham                          (Computer Science)
G. Michael Phillips           (Finance, Financial Planning & Insurance)
Mark Schilling                   (Mathematics)
Ellen Schneiderman           (Special Education)
Deborah van Alphen         (Electrical & Computer Engineering)
Nancy Virts                      (Economics)
Joy von Wolffersdorff      (Art)
Faculty Completing 35 Years of Service
Larry Allen                       (Biology)
Jan Dobias                        (Physics & Astronomy)
Barbara Eisenstock           (Journalism)
Beth Lasky                       (Special Education)
Sembiam Rengarajan         (Electrical & Computer Engineering)
Ramin Roosta                   (Electrical & Computer Engineering)
John Sinclair                      (Communication Disorders & Sciences)
Janice Tolan                      (Recreation and Tourism Management)
Faculty Completing 40 Years of Service
Christopher Holmes         (Counseling Services)
Faculty Completing 50 Years of Service
James Sefton                     (History)
*Belated Recognitions