Alumna Uses Counseling and Psychology Background from CSUN to Become San Francisco Teacher of the Year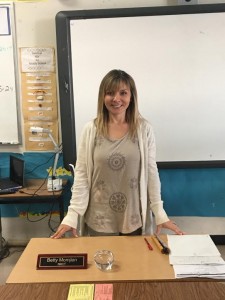 There was a nagging itch that wouldn't leave Betty Kradjian-Momjian '88 (Psychology), M.S. '92 (Counseling) soon after graduating from California State University, Northridge.
While working in the retail and wholesale food industry, she couldn't help regularly asking her sister-in-law Nooneh Dolbashian-Kradjian '90 (Graphic Design), a teacher at John Muir Elementary School in Glendale, what it was like being a teacher.
"I kept asking [Kradjian] how her day was and what she was doing at work. Finally, she told me to just come into the classroom and check it out," Kradjian-Momjian said. "When I went into the classroom to volunteer, I fell in love with teaching."
Nearly two decades and hundreds of impacted students later, Kradjian-Momjian is a 2016-17 San Francisco Teacher of the Year. She found out when she received a call from San Francisco mayor Ed Lee's office
"When the mayor's office called to say I received the middle school award, I was so moved and touched," Kradjian-Momjian said. "I think part of the reason for the recognition was because of my background in psychology and counseling."
Kradjian-Momjian, a math and science teacher at A.P. Giannini Middle School, said CSUN played a significant role in shaping how she teaches.
"My education at CSUN is the foundation on what helped me be a better teacher," Kradjian-Momjian said. "My psychology degree is instrumental in me being successful because I can bring what I learned at CSUN into the classroom, such as knowing about child development, knowing a child's decision-making process and knowing why students act the way they do."
With a psychology and counseling background from CSUN, Kradjian-Momjian strongly believes in digging to find a student's true reason for misbehaving in class. Rather than simply using discipline or sending them to the principal's office, Kradjian-Momjian has a much more therapeutic approach.
"If a student is having a conflict, I want to sit, have a meeting and get to the root cause of what's wrong," Kradjian-Momjian said. "Students have told me before that it's the first time someone has actually wanted to find out why they are angry. At the end of the meeting, I find students are mostly apologetic, saying 'Hey, man, that's my bad.'"
This unique teaching style is one reason Kradjian-Momjian believes she was recognized by the San Francisco School District.
"I think I adhere to this way of communicating with not just my students, but with adults in the workplace as well," Kradjian-Momjian said. "I implemented this practice at our school and I feel that people on the district level notice that it's not something I just preach, but something I practice."
According to Kradjian-Momjian, CSUN played a pivotal role in her understanding on how kids behave in the classroom.
"When I was a novice student, I thought it was the kid's fault for misbehaving and that something was wrong with the child," Kradjian-Momjian said. "My education at CSUN was valuable because it enforced the belief that the child isn't necessarily the issue, but it's the family dynamic. The child is exhibiting symptoms of what's going on in the family."