Community Leaders to Meet at CSUN to Tackle Human Trafficking in the San Fernando Valley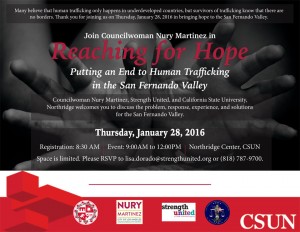 Los Angeles City Councilwoman Nury Martinez and Los Angeles County Supervisor Mark Ridley-Thomas will join members of law enforcement and community-based organizations, as well as officials from California State University, Northridge and Strength United, to explore ways to stop human trafficking in the San Fernando Valley on Thursday, Jan. 28, at the university.
The event, called "Reaching for Hope: Putting an End to Human Trafficking in the San Fernando Valley," will take place from 9 a.m. to noon in the Northridge Center of the University Student Union, located on the east side of the campus at 18111 Nordhoff St. in Northridge.
"Within the United States, California has emerged as a magnet for sex trafficking of children," said Kim Roth, executive director of Strength United. "Three of the nation's 13 high-intensity child prostitution areas identified by the FBI are located in California: San Francisco, Los Angeles and San Diego metropolitan areas. Given the challenges unique to commercially sexually exploited children, the efforts put forth by the panel presenters will help each of us improve how we identify and respond to those who need our help most."
"I'm looking forward to shining a light on human trafficking in the Valley," said Councilwoman Martinez. "We will raise awareness on all possible solutions going forward.  I'm committed to fighting human trafficking in the San Fernando Valley."
The event will include an examination by Councilwoman Martinez and Supervisor Ridley-Thomas of the ways that the city and county can combat human trafficking.
They will be followed by a conversation about law enforcement and prosecution efforts to deal with the problem by Catherine Pratt, a commissioner with Compton's STAR Court; Los Angeles Supervising City Attorney Richard Schmidt and Lt. Marc Evans, with the Los Angeles Police Department's vice unit.
The morning will culminate with a panel discussion on healing and recovery for the survivors of human trafficking with Stephany Powell, executive director of Journey Out, and Lisa Hornack of Strength United. Powell and Hornack will be joined by a survivor of human trafficking who will talk about her experiences.
Seating for the event is limited. Reservations are recommended. To make a reservation, email lisa.dorado@strengthunited.org or call (818) 787-9700.
Strength United is a comprehensive social service organization that operates through CSUN's Michael D. Eisner College of Education.  It provides 24/7 support and crisis intervention, along with long-term counseling, victim advocacy and prevention-education programs to individuals and families affected by domestic violence, sexual assault, child maltreatment and other crimes.  http://www.csun.edu/eisner-education/strength-united
Compton's STAR (Succeeding Through Achievement and Resilience) Court, which provides referrals to specialized services for underage victims of sex trafficking.  
Journey Out works with survivors of human trafficking.