CSUN Alumni Break Stereotypes and Communication Barriers in No Limits' Silent NO MORE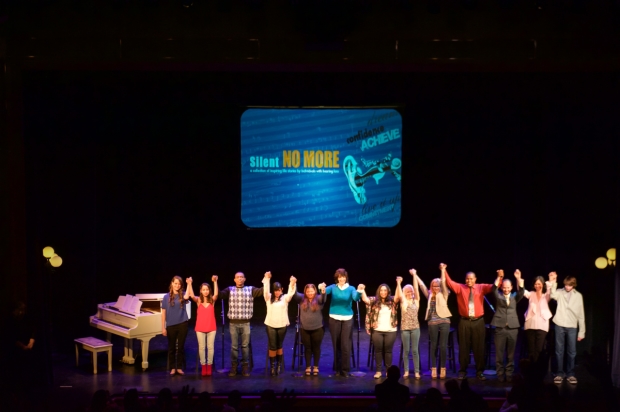 Silent NO MORE Performance at the John F. Kennedy Center in Washington, D.C. Photo by Kuralay Nurmanova.
Members of the community and California State University, Northridge students have the opportunity to gain real-life insight into the everyday life experiences of people who live with hearing loss through a collection of monologues performed in the critically acclaimed documentary "Silent NO MORE," presented by the nonprofit group No Limits for Deaf Children and Families, featuring CSUN alumni and faculty.
CSUN alumni and faculty will be performing personal monologues in the play on Thursday, April 27, at 7 p.m. The play will take place in the Little Theatre, located in Nordhoff Hall, room 121, on the southwest side of campus at 18111 Nordhoff Street. A Q-and-A session with the cast will follow the performance.
Founder of No Limits and Director of "Silent NO MORE", Michelle Christie, created the play to help spread awareness and educate people throughout the world about the hardships and triumphs of those who live with hearing loss. The cast members of the play will share their stories of inspiration, resiliency and accomplishments with the audience.
CSUN alumnus and university assistant photographer David Hawkins will perform his monologue, providing the audience with an exclusive look into his world of oppression and prejudice and how he overcame it all to achieve his dream.
"Most people say, 'You're deaf and you can't be the kind of person you want to be, and you can't do the kind of job you want to do because of your hearing loss,'" said Hawkins. "I proved all of them wrong."
Hawkins, a junior board member in No Limits, has been involved with the organization since 1996. While growing up, No Limits provided Hawkins with free speech and language therapy. Hawkins has performed his monologue in "Silent No MORE" across the country, including the Kirk Douglas Theatre in Culver City, the Kennedy Center in Washington, D.C. and Carnage Hall in New York City.
Hawkins hopes the play will help raise awareness of the struggles, accomplishments and success of people who live with hearing loss among CSUN students and the community.
"No one really talks about people who are deaf and neither does the media," said Hawkins. "That's why we're here raising awareness.
"Our monologues are not only about negativity in our lives," he added. "There is always a positive aspect. Some of the monologues are funny and show the enlightenment in our lives."
The play is presented mostly in spoken language, with some sign language. American Sign Language interpreters and real-time translation services will be available.
Community members can purchase tickets for $10 online by visiting the Silent NO MORE event page. Students can reserve free tickets by entering the promotional code "CSUN" at the checkout page.
For more information regarding "Silent NO MORE" please email rsvp@nolimitsfordeafchildren.org or call (310) 280-0878.