CSUN Urban Planning Project Takes on Human Trafficking in Southern California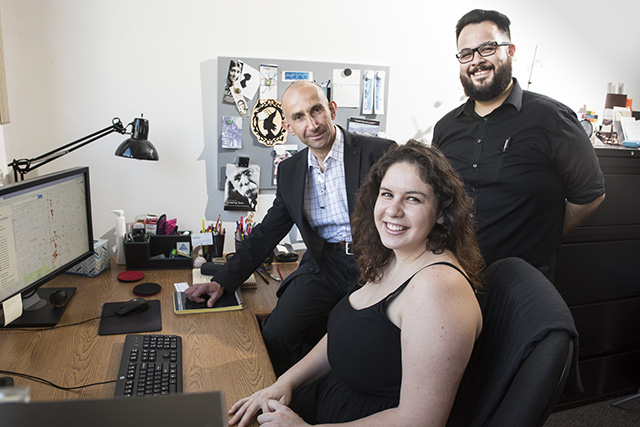 Left to right, CSUN urban planning professor works alongside undergraduate urban planning students Andres Zuniga and Ashely Mercado on maps depicting human trafficking activity in San Fernando, Los Angeles and Pomona. Photo by Lee Choo.
Geography is often seen as something taught in a classroom or used by a street planner. California State University, Northridge urban planning professor Henrik Minassians is creating maps for a different use — to help end human trafficking on the streets of South Los Angeles, San Fernando and Pomona.
The project is backed by Los Angeles District Six Councilwoman and CSUN alumna Nury Martinez, who expressed high hopes that Minassians' work will help put an end to human trafficking in the region at a press conference last year.
Minassians said the years-long project started by accident, when a colleague of his, CSUN sociology professor David Lopez, who was working with the Los Angeles Police Department's (LAPD) VICE unit, asked him if he wanted to help map out human trafficking in South Los Angeles.
Minassians approached the project with a method known as Crime Prevention Through Environmental Design (CPTED) — a methodology created in the 1970s by urban planner Oscar Newman that claims that through changing the built, social and administrative climate of an area, crime rates can be lowered. However, when Minassians and his team applied the method, what they found was unexpected.
"When we applied this design theory, we discovered it does not apply to South [Los Angeles], and specifically prostitution," he said. "According to CPTED, you need eyes on the street to make a safer environment. We called South Central 'no man's land' because we walked in with the assumption that the environment is built in such a way that the residents have no visibility. We found that is not the case."
Minassians gave the example of increased lighting in certain high-crime areas. The assumption is made that the increased visibility will deter crime. But, in some cases, as in the neighborhood he and his assistants studied in South Los Angeles, the additional light worked in favor of those committing the crimes, giving them ample opportunities to see when law enforcement was in the area.
In other areas, low visibility hampered their efforts to study crime. For example, on Sepulveda Boulevard in San Fernando, sex crimes occurred in more shadowed and hidden places.
The team counted condoms in a low-light area populated by homes some distance from the street to monitor human trafficking and sex crimes.
Ashley Mercado, an urban planning undergraduate student, collected and mapped out data for the South Los Angeles and San Fernando neighborhoods studied. She said there were major differences in how and where sex crimes occurred.
"It's not always what you think it will be," she said. "We found different results in different areas. In Los Angeles, motel use was the case because the streets were gang-monitored. On Sepulveda Boulevard, we were able to see activity more blatantly."
Andres Zuniga, an undergraduate student in urban planning, explained that their methodology could potentially be used in neighborhoods and cities across the country.
"We could do this research in different states that might have a different type of [human trafficking] situation," he said. "This could be a new field of study."
Minassians explained the data collected through their work is given to the LAPD, San Fernando Police Department and Pomona Police Department for use in plans to prevent human trafficking and crime.
"We are not saying we will solve the problem," he said. "But we can change the behavior and forms of activity."
Working alongside Councilwoman Martinez has been a boost for the urban planning team, Minassians said.
"Nury Martinez wants to fix it," he said. "She was interested in what we were giving her as a recommendation. She has been requesting funding to work on this. She is very engaged in trying to solve the problem [of human trafficking]."