CSUN's New University Innovation Fellows Geared Up For Campus-Wide Interdisciplinary Collaboration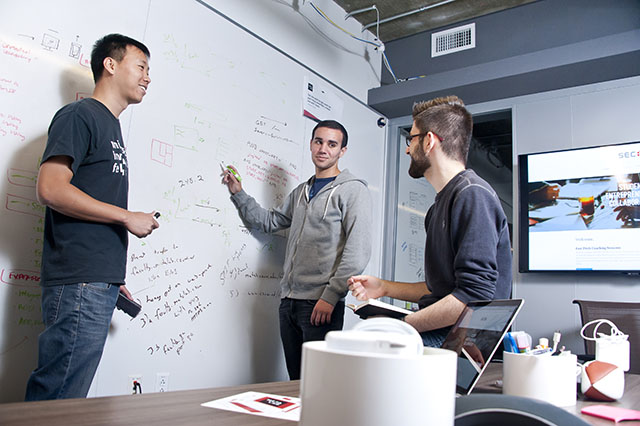 How often do you see computer science, art and marketing majors meeting to work together on a class project? At California State University, Northridge, this soon will be the norm — thanks to the work of two new University Innovation Fellow students.
CSUN marketing majors Arman Aivazian and Alec Le Doux are joining forces with ​​spring 2015 fellows and senior engineering students Daniel Aguiar and Diego Vilchez to create an entrepreneurial environment for students of all disciplines at the university to collaborate on innovative ventures. The four CSUN students are among 289 students from 114 schools across the country who were named as University Innovation Fellows by the National Center for Engineering Pathways to Innovation (Epicenter).
Aivazian explained that as part of a collaboration, CSUN students from different fields will be able to work together on innovative projects and learn from each other's expertise.
"I talk to a lot of business students, but we don't really talk to anyone else at all," Aivazian said. "That [includes] media majors, English majors. We just don't have the opportunity to collaborate with other majors on campus. That's the primary goal we will be working on with Diego and Daniel — beginning that collaboration with others on campus."
CSUN's University Innovation Fellow adviser and engineering professor Bingbing Li said that the UIF program's annual meetup at Google headquarters and Stanford University on March 17-20 will provide Le Doux and Aivazian with some excellent experience in project-based learning. This experience can be applied to CSUN's future goals of interdisciplinary academia.
"When you have a real project, you are facing more problems, you consider different parameters and then you are marketing it," Li said. "You are training the students to apply the knowledge."
Project-based learning gives students a better understanding and more applicable skills for the workforce after college, Le Doux agreed.
"The way students learn now is just different," he said. "Project-based learning tests your problem-solving skills. In real life, you are not going to always be working on formulaic, structured problems. That is what makes a project learning experience more realistic. The questions and problems evolve."
Aivazian noted that CSUN alumni site the successes of the university's practices as an entrepreneurially spirited institution, because many of the students are the first in their families to go to university.
"There is a tremendous amount of potential in CSUN students," he said. "The evidence is in the alumni. [They say] what they admire most about CSUN is that the students bring a different perspective, a survival."
Two recent CSUN alumni success stories are Travis Smith, who graduated in 2008 with a bachelor's degree in graphic design, and Joe Notaro, who graduated in 2007 with a bachelor's degree in marketing. Their business, Reflex Sales Group, won the 2015 Young Entrepreneur of the Year award, given by the United States Small Business Administration and the Los Angeles Chamber of Commerce. In 2013, they also won the Exporter of the Year award from the small business administration and the chamber. The duo attributed their business success to the networking and interdisciplinary approach they acquired while attending CSUN.
Le Doux said he hopes creating an interdisciplinary environment on campus also will give students another outlet to share memories at CSUN in a more academic setting.
"A lot of people just go straight home after finishing classes at CSUN," Le Doux said. "Beside clubs, an entrepreneurial program is really coming out at CSUN. It's an entire movement — students can be inspired and hopefully, they can look at these [alumni] as an example of what they can do themselves."