CSUN Master of Social Work Online Program Recognized with National Ranking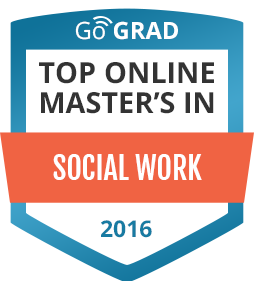 California State University, Northridge ranked ninth in a national rating of online Master of Social Work programs by a community of experts on higher education, GoGrad.org. In the rankings, GoGrad evaluated programs' application requirements, concentration subject areas, curricula and career options after graduation.
"It is always an honor to be recognized and ranked as a quality MSW program," said Rachel Navarro, program coordinator for CSUN's online MSW program. "We will always strive to be the best program we can be and excel in what we aim to offer."
The most important criteria in the ranking were the availability of career counseling and job placements during the program.
GoGrad.org stated that "[CSUN] students will also benefit from a dedicated program manager to assist them every step of the way, from application to graduation."
"We have caring and compassionate faculty and staff who communicate effectively regarding the students' progress in the program," Navarro said. "Students are able to contact their instructors directly for questions about their courses, but are also assigned a faculty advisor and dedicated program staff to provide other guidance and support through the program. We celebrate when our students achieve, and we are invested when a student may be having some struggles."
The two-year master's program includes a fully accredited curriculum with two internship placements, in which students receive practical experience in their fields. A team of instructors builds and maintains the online cohort, establishing student connections and community engagement.
"It is a pleasure working for such a well-respected program alongside a wonderful team of dedicated faculty and staff, our campus community, agency contacts and students," Navarro said. "I am excited to see how this program continues to grow and develop over time."
For more information on the MSW online program, visit http://tsengcollege.csun.edu/programs/MSW.