Distinctive Artist Collective to Celebrate Ten-Year Anniversary at CSUN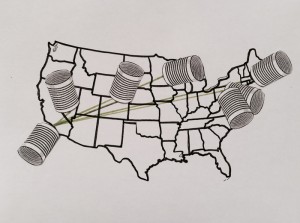 The distinct art collective, Telegraph, will celebrate its 10th anniversary with a special exhibition, "Tin Can Transmissions: 10 Years in the Making," opening next week at California State University, Northridge. The show runs from Feb. 14 through March 28.
Telegraph is comprised of seven members with diverse disciplinary backgrounds and originated in Detroit, Michigan. The name describes both the group's long-distance method of conversational collaboration (the members are now scattered throughout the country) and pays homage to Telegraph Road, the ubiquitous Detroit thoroughfare.
The group occasionally gathers in one location to collaborate on projects. For its 10-year anniversary Telegraph will come together at CSUN Art Galleries where they will take up residence, and work on-site to create and present various installations addressing time, site and circumstance.
"I am particularly interested in this show because the artists will be creating their artwork in the gallery the week before" said CSUN exhibitions coordinator Michelle Giacopuzzi. "This is a first for the Art Galleries. I am also excited that our art students will be assisting the artists and attending the artists workshops when they are in town."
Utilizing school facilities and working closely with student artists, members of Telegraph will respond directly to the site and its conditions. In addition, the group will be working closely with the CSUN community, hosting lectures and workshops during the course of the exhibition
Telegraph made its exhibition debut at the Art Chicago Stray Show in May 2004. The collective consists of artists Hartmut Austen, Haley Renée Bates, Fabio J. Fernández, Shannon Goff, Tom Lauerman, Brent Sommerhauser, and Christian Tedeschi. In addition to their collaborative efforts, the artists exhibit individually at galleries and museums both nationally and abroad.
In conjunction with this exhibition, a catalog will be produced that will document the creation of the artwork.
Gallery hours are Monday through Saturday noon to 4 p.m. and Thursday noon to 8 p.m. For further information, please contact Michelle Giacopuzzi at michelle.giacopuzzi@csun.edu or call 818-677-2156. Visit the galleries at www.csun.edu/artgalleries and www.facebook.com/CSUNArtGalleries.