Transit Center Offers New Public Transportation Option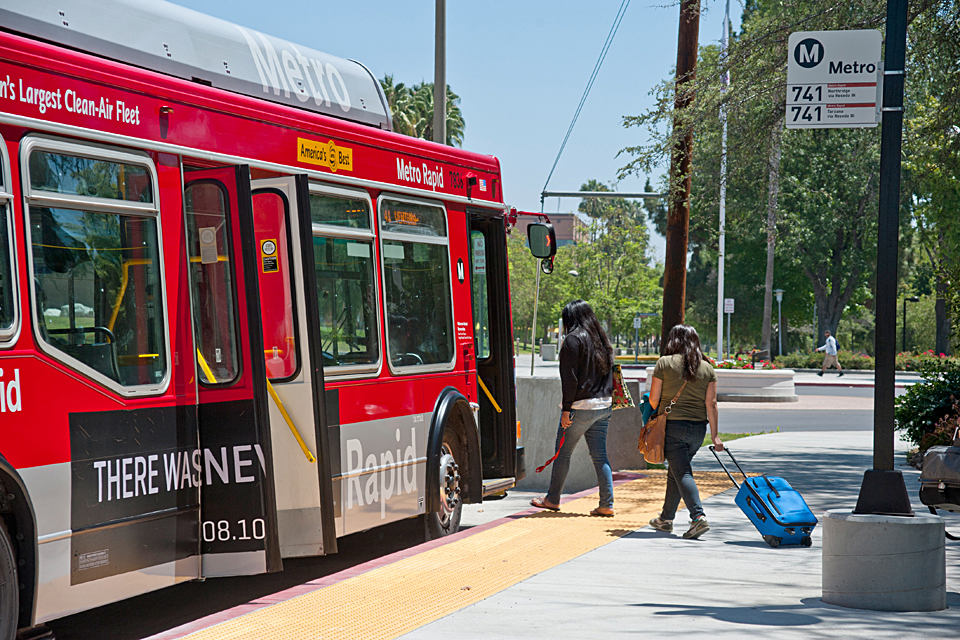 Commuting to California State University, Northridge using public transportation just got a little easier with the addition of an on-campus transit station, located on Vincennes Street on the west side of campus just north of University Hall.
The station, which opened on June 18, will be serviced by Metro bus lines 167 (Plummer Street), and 741 (Reseda Rapid), Antelope Valley Transit Authority's (AVTA) 787 Express and the CSUN Metrolink Shuttle.  A dedication event will take place on Aug. 30 involving several elected and Metro transportation officials.
"The station will offer California State University, Northridge public transportation passengers a convenient on-campus location for drop-off or pick-up," said Capt. Alfredo Fernandez, Department of Police Services.
Based on data provided by the Department of Police Services, approximately 130 faculty and staff members commuted to campus using Metro bus lines, Metrolink trains and the AVTA during the 2011-2012 academic year.
The Office of Transportation Services offers a number of incentives to encourage eligible faculty and staff to participate in rideshare programs. Full- and part-time state employees, as well as non-state employees that work at the University Student Union, The University Corporation, Associated Students and the Matador Bookstore are eligible.
Incentive programs include:
Discounted Public Transit Tickets – Registered participants receive a discount of 60 percent off the cost of monthly transit passes. Employees are limited to a single, discounted purchase transaction per monthly selling period and the total monthly discount shall not exceed $100 per month. Passes must be purchased on campus.
Vanpool Program – Vanpooling is available to employees who match the starting locations and work hours of existing CSUN vanpools, or who meet the criteria for starting a new group. Participants pay a monthly fee of $78 to $92 to participate and must register with the transportation program.
Bicycling – The campus provides five Matador Bicycle Compounds (in lots B3, B5 and G3 on the main campus; G9; and adjacent to UPA Building 11 in student housing) to provide registered users a secure location to park bicycles and also offers "rainy day" parking permits to faculty and staff who regularly bicycle to campus.
Guaranteed Emergency Ride Program – This program offers a one-way ride to registered employees who use an alternate commute mode to get to work and experience a sudden, off-campus emergency requiring a departure from campus or if an on-campus emergency requires the employee to stay late and miss his or her regularly scheduled ride home.
For more information or to register for rideshare programs, please contact Astrid B. Logan via email at astrid.logan@csun.edu or call (818) 677-3946.