CSUN Method for Tracking Graduate Success Wins International Honor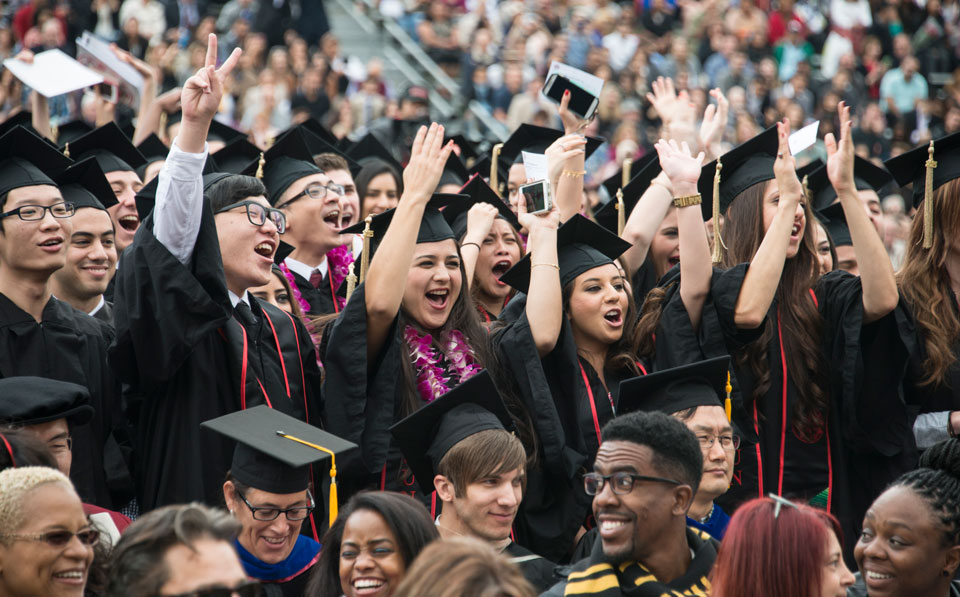 CSUN method for tracking student success after graduation wins honor from AASCB. Photo by Lee Choo.
A method to measure student success — including employment and earnings — over a 10-year period after they graduate from California State University, Northridge has been singled out as an "Innovation that Inspires" by an international coalition of business schools.
The Association to Advance Collegiate Schools of Business (AACSB), a global accrediting body and membership association for business schools, honored CSUN's David Nazarian College of Business and Economics earlier this month for the work of management professor Richard Moore and economics professor Kenneth Chapman. It was one of only 30 "innovations" from around the world to be recognized.
The duo have developed what they believe is a more accurate way of measuring the success of college graduates, using state employment and tax data to track how much alumni earn two years, five years and 10 years after they graduate from an institution. Their method takes into account students who drop out or transfer to other institutions, and it tracks the success of students who go on to graduate school.
"CSUN's top strategic priority is the success of our students — not only during their years on campus, but also over a lifetime of economic and social contribution," said Kenneth Lord, dean of the Nazarian College. "Rick Moore and Ken Chapman have applied their creative talents and expertise to develop an automated benchmarking system that integrates data from university and government sources to yield perhaps the most comprehensive information about graduates' career outcomes over the short, medium and long term that is to be found at any institution of higher education.
"Their findings give me pride in the outstanding accomplishments of our graduates and insights that will help us plan for even higher levels of lifetime student success," Lord continued. "I am delighted that the impact of their work has been recognized as one of only 30 'Innovations that Inspire' from around the world by the prestigious AACSB International."
Chapman and Moore said they were honored to receive the recognition, and they hope that it inspires other institutions of higher learning to consider their approach to measuring student success.
"It's nice that our work is getting attention," Chapman said. "The whole point is to make it easier for parents, perspective students and others to get a clearer understanding [of] how well an institution and its graduates do. The data may reassure a parent that their child, who may want to major in the arts, will indeed find a job and be able to live comfortably, five or 10 years after graduation, and that they will not spend the rest of their life living on their parents' or someone else's couch."
Moore said today's students and parents, more than in previous generations, want to make sure that a college education will lead to career success.
"The ability of a business college and a university to show the value of a degree in terms of career success is crucial to maintaining the college's or campus' reputation and brand value," Moore said. "Public universities also are challenged by policymakers and the public to show how they contribute to the state or regional economy. Historically, higher education has used national data to show the value of a degree, and relied on anecdotes to show the success of their graduates and their contribution to the economy. Our methodology goes well beyond that."
The duo, with the help of Bettina Huber, CSUN's director of Institutional Research, established five guiding principles they argue create a realistic, unbiased way of measuring the success of an institution's students: follow all matriculated students over time; use standard data available in every state, such as employment records and tax rolls; create standard, easy-to-understand labor market measures; break down the data to the campus and program level; and make the results public.
The trio of researchers used this method to measure the economic success of CSUN students. They collected records for all entering students, including first-time freshmen and transfer and post-baccalaureate students, for the years 1995-2000. They issued their first report in 2013, offering a snapshot of CSUN students' success.
Five years after leaving CSUN, the average annual salary for the university's graduates was about $51,000. For those who completed graduate degrees, the average annual salary five years out of CSUN was more then $68,000, while the salary for those who dropped out of the university was about $38,000.
The follow-up study, released last fall, took a look at the annual salary for CSUN students 10 years after they leave the university. CSUN graduates earn, on average, $64,000 annually a decade after leaving the university. Those who complete graduate degrees have an average annual salary of more than $73,000. Those who drop out of the university earn, on average, about $44,000 a year 10 years after leaving CSUN.
A copy of the complete report, including a breakdown by college and program, can be found on the university's Office of Institutional Research website in the "CSUN by the Numbers" link under Alumni Earnings.
Chapman said data generated by CSUN provide understandable information that helps students and their parents make informed decisions about about the students' futures.
"For most parents, the question is not, 'Will my child be rich?'" he said. "The question is 'Will they be adults who can take care of themselves, get work that is rewarding and a career path that is going somewhere?' The data also help colleges and universities make informed decisions about the programs and courses they offer to help their