CSUN-al Gardening Series Explores Tomato Varieties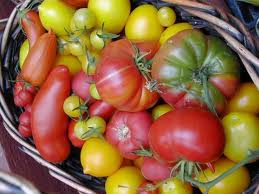 "ToMAYto." "ToMAHto." Hybrid. Heirloom. Early Girl. Better Boy. Dr. Wyche's Yellow. Dorothy's Green. Black Prince, Mountain Princess. Determinate. Indeterminate. Fruit. Vegetable…
No matter what they are called or how they are classified, tomatoes are considered by many people as among the most rewarding of home-grown foods. However, the many varieties available to the Southern California gardener can be a confusing assortment of names and designations.
California State University, Northridge's next CSUN-al Gardening Series class on Saturday, March 2, will offer help to home gardeners in determining which variety, or varieties, are right for them.
Scott Daigre, proprietor of Tomatomania and owner of Powerplant Garden Design, will share his strategy on tomato growing, provide tips on maximizing yield and explain why some tomatoes have letters after their names.
"Every year, the home gardeners in Southern California face the quandary of too many enticing varieties, but too little space to grow them all in their gardens," said Brenda Kanno, manager of CSUN's Botanic Garden, which hosts the series. "Scott's class can help them winnow down their lists to the very best varieties for their home gardens. His method of growing tomatoes in containers will also help to put every square foot of available space into cultivation."
Daigre's class is scheduled to take place at 2 p.m.
Registration for the free class is required. Email botanicgarden@csun.edu to request a space in the class or for more information. Driving and parking instructions, as well as the class meeting location, will be sent upon registration.
Cal State Northridge's Botanic Garden is operated by the university's Department of Biology and serves as a field site for botany, entomology, photography, painting and other classes. In addition to outdoor landscapes and natural botanic environments, the garden also features greenhouses where botanical specimens are grown. The garden is open to the community.
Visit the website www.csun.edu/botanicgarden/ for more information.