CSUN Police Arrest Suspect in Lewd Conduct
California State University, Northridge police have arrested the suspect wanted in connection with a lewd conduct incident that occurred on campus on Wednesday, July 9, that generated a crime alert bulletin.
University police arrested Jason Andrews Oakland, 22, this afternoon without incident. Oakland was identified by four victims, all CSUN employees.
Shortly after 1 p.m. today, while off campus, two employees contacted university police dispatch to report that a suspect, whom they recognized from the crime alert bulletin, had exposed himself to them. The employees gave a description of the suspect and his direction of travel — toward campus.
Minutes later, university police dispatch received a call from a third victim, another CSUN employee, reporting a similar incident that took place near the Valley Performing Arts Center. The victim reported to police that the suspect was traveling by bicycle toward the CSUN Orange Grove.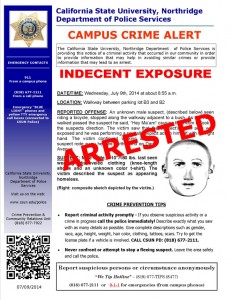 CSUN police officers in the area quickly located Oakland. He was positively identified as the suspect by the third victim at the scene. The two victims who witnessed the suspect off campus later positively identified him in a photo lineup.  The victim from Wednesday's incident was contacted by police and also positively identified Oakland as the suspect in the earlier incident
Following his arrest, Oakland was transported to the LAPD Van Nuys station and will be arraigned in court on Monday.