CSUN President Harrison Takes Part in White House Meeting to Combat Campus Sexual Assault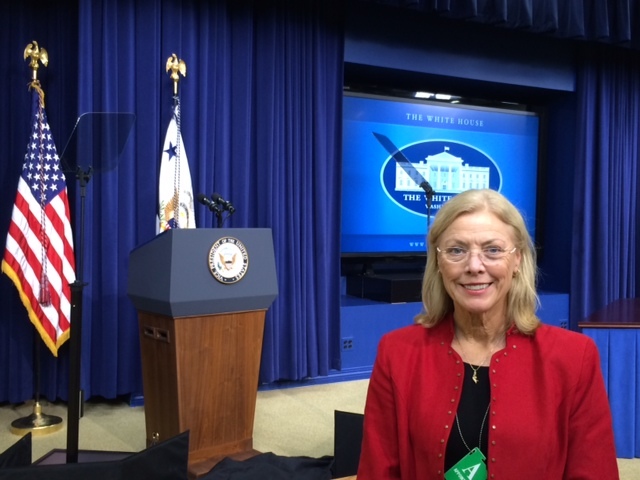 President Dianne F. Harrison at the White House.
California State University, Northridge President Dianne F. Harrison joined a handful of other higher education leaders Tuesday in a meeting at the White House to discuss plans to combat sexual assaults on college campuses.
At the meeting, Vice President Joe Biden formally unveiled a report from the White House Task Force to Protect Students from Sexual Assault that urged colleges and universities to conduct anonymous surveys about sexual assault incidents, adopt anti-assault policies that have proven successful on other campuses and ensure that the reports of such crimes remain confidential, among other measures. The report also detailed plans to launch a website called NotAlone.gov, where law enforcement data on sexual assaults on college campuses will be published.
Representing the California State University system, Harrison said combating campus sexual assault means supporting our students and being a champion for those that have been victimized.
"I take the issue of sexual assault very seriously and will do whatever I can to reduce and ultimately eliminate its incidence on our campus and others," Harrison said. "We need to make sure that we are aggressive in raising awareness of this issue and its absolute unacceptability in any form. We need to make sure victims have a confidential resource to provide support for them in the aftermath of an assault — including providing support during any legal process or campus student-conduct procedures that may occur. While everyone plays a role in enacting change, university presidents should take an assertive leadership role in helping to change their campus culture."
In addition to Biden, among those who addressed the gathering were Lynn Rosenthal, White House advisor on violence against women; Tina Tchen, executive director of the White House Council on Women and Girls; James Cole, deputy attorney general in the U.S. Department of Justice; Arne Duncan, Secretary of the U.S. Department of Education; Kathleen Sebelius, Secretary of the U.S. Department of Health and Human Services and Valerie B. Jarrett, senior advisor to President Obama and chair of the White House Council on Women and Girls.
The task force was launched in January following reports from colleges and universities across the nation that criticized the way campus officials responded to and handled reports of sexual assault. The task force noted that one in five college female students has been assaulted but that just 12 percent of such attacks are reported.
The federal Clery Act, which requires colleges and universities that receive federal student aid funds to abide by a set of transparency regulations meant to improve safety for students and employees, was amended in March 2013 to include what is widely known as the Campus Sexual Violence Elimination Act, or the Campus SaVE Act. The Campus SaVE Act, which became effective in March 2014, is designed to improve education and prevention related to campus sexual violence, domestic violence, dating violence and stalking.
The Campus SaVE Act requires colleges and universities to report domestic violence, dating violence and stalking beyond the crime categories already mandated by the Clery Act; adopt certain student complaint and discipline procedures including and not limited to notifying victims of sexual assault and violence in writing of their rights and options, and giving victims the same rights to advisors and status reports as are given the accused perpetrator; and adopt institutional policies to address and prevent campus sexual violence, conduct ongoing prevention and awareness campaigns for all students and employees and provide specialized training to pertinent institutional personnel.
Following the meeting at the White House, President Harrison said CSUN is committed to being a leader in combatting campus sexual assault.
"The measures put in place by the SaVE Act that were reinforced in the task force report give colleges and universities a strong foundation to fight campus sexual assault," she said. "University campuses should be a safe haven where students can focus on learning and their academic success. At our campus, and I hope others, we will not stop at this baseline but look at other ways to ultimately eliminate this threat to all students."