NIH Awards CSUN $22 Million to Enhance Diversity in Biomedical Workforce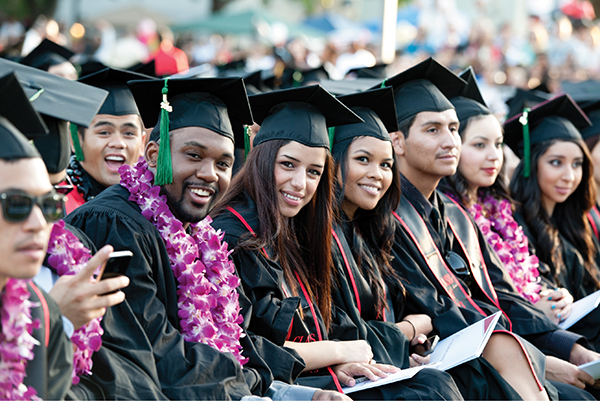 The NIH has awarded CSUN nearly $22 million to make a nationwide impact on enhancing the diversity of the country's biomedical workforce. Photo by Lee Choo.
The National Institutes of Health (NIH) has awarded California State University, Northridge nearly $22 million over the next five years to make a nationwide impact on enhancing the diversity of the country's biomedical workforce.
The $21.8 million grant — the largest single grant the university has ever received — will fund BUILD@CSUN, an ambitious attempt to change the way traditionally underrepresented minority students are mentored and trained as they set off on a career path as biomedical researchers. The program, which builds on already existing programs at CSUN, draws on a social justice model to inspire students and impact health disparities in the community.
"As one of the largest and most diverse universities in the country with a strong record of success with students from all backgrounds, CSUN is well positioned to address the glaring low numbers of underrepresented minority students pursuing careers in the biomedical field," CSUN President Dianne F. Harrison said. "This grant allows CSUN to make an even greater impact and improve the health of communities nationwide."
CSUN has a long history serving underserved communities. The university was one of the first in the nation to establish ethnic studies programs, including Chicana/o studies, Africana studies and Central American studies. Faculty in those programs helped lay the foundation for the development of the grant application.
NIH officials announced the grant today as part of an initiative to develop new approaches that engage researchers, including those from backgrounds underrepresented in biomedical sciences, and prepare them to thrive in the NIH-funded workforce. Twelve awards were made to more than 50 institutions across the country. All the awardees will establish a national consortium to develop, implement and evaluate approaches to encourage individuals to start and stay in biomedical research fields.
"The biomedical research enterprise must engage all sectors of the population in order to solve the most complex biological problems and discover innovative new ways to improve human health," said NIH Director Dr. Francis S. Collins. "While past efforts to diversify our workforce have had significant impact on individuals, we have not made substantial progress in expanding diversity on a larger scale. This program will test new models of training and mentoring so that we can ultimately attract the best minds from all groups to biomedical research."
Psychology professor Carrie Saetermoe said the CSUN effort will create new strategies to retain and recruit the next tier of underrepresented minority biomedical scholars.
The new approach, Saetermoe said, is rooted in a social justice perspective that will frame the training, outreach and other activities in BUILD@CSUN.
"Without this approach, in 30 years we will be where we are today — where a cultural lag in socialization of underrepresented minority students to graduate programs, faculty positions and NIH-funded research applications persists despite decades of substantial investment by the NIH," Saetermoe said. "The status quo works well for incredibly passionate and culturally
sensitive mentors and engaged/dedicated institutions. But the numbers of underrepresented minority researchers 'making it through' are far too few."
In addition to Saetermoe, the project's leads include psychology professor Gabriela Chavira, Maggie Shiffrar, assistant vice president for graduate studies, and Crist Khachikian, associate vice president for research and graduate studies and professor of civil engineering and construction management.
The new effort draws on the success of several programs at CSUN — including Minority Access Research Careers (MARC) headed by biology professor MariaElena Zavala and Research Infrastructure in Minority Institutions (RIMI) and the National Institute of Mental Health's Career Opportunities in Research (COR), which are both led by Saetermoe — which boast more than 50 percent of their graduates continuing on to a doctorate. University officials said the programs' success lies in their emphasis on community-based participatory research, in which undergraduate and graduate students take what they are learning in the classroom to work in the community.
"Until we start addressing why health disparities really exist in an honest or direct way, we aren't going to make any difference in them," Saetermoe said. "Many of our students come from communities where those disparities exist. They understand in a more personal way what is happening. When you take what we're teaching them in the classroom and get them to think about social problems and health problems from their perspectives, they can come up with viable solutions. At the same time, we are developing passionate individuals who are inspired to go on to become biomedical researchers because they know firsthand, from their work as undergraduate and graduate students, that they can make a difference."
BUILD@CSUN researchers hope to draw on best practices at CSUN and other institutions to develop a model that can be replicated across the country. Among the institutions CSUN researchers will be working with are Claremont Graduate University, UC Irvine, UCLA, UC Santa Barbara and UC San Diego.
CSUN officials also will be working with officials from Los Angeles Valley College, Pasadena City College, Los Angeles Mission College, Los Angeles Pierce College, East Los Angeles College and Santa Monica College to ensure support for students transferring from community colleges.
Ultimately, CSUN officials will create a new Health and Health Disparities Research Center at the university that will ensure sure long-term sustainability of the programs developed by the BUILD project. It also will serve as a resource center for what is, potentially, an exemplary approach to recruiting and collaborating with undergraduate and graduate underrepresented researchers.
"More than 100 faculty, a good proportion of our faculty who engage in biomedical research, have already submitted applications to become mentors to students," Khachikian said. "That lays the foundation for what we want to do with our students and the institution — create an environment where we are more competitive in NIH-funded biomedical research while we transform the university to an even more research-intensive institution for faculty, and especially for students."