Students to Face Off in First Round of CSUN's 'Bull Ring' Competition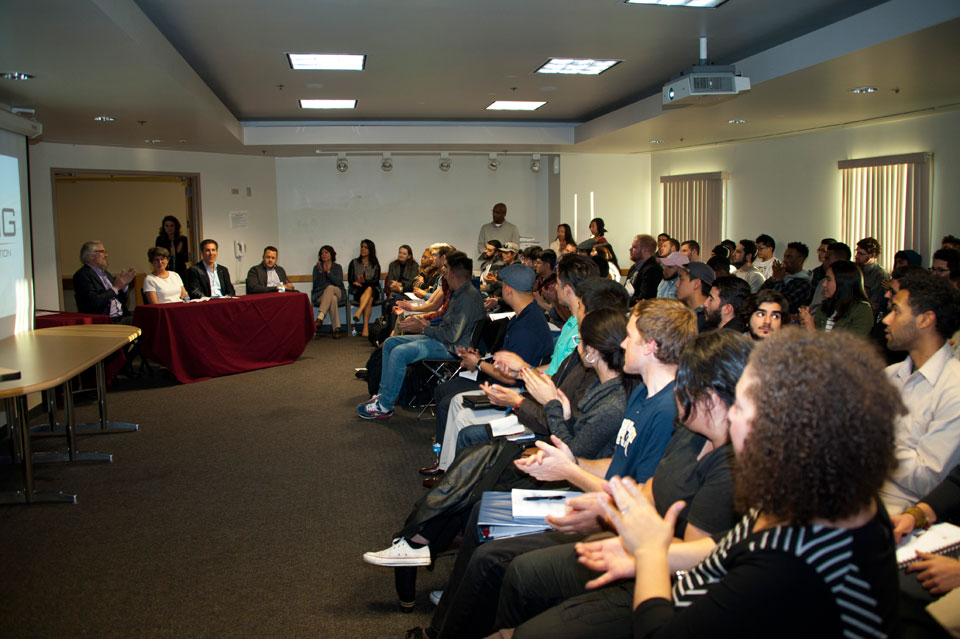 It was standing-room-only at the Bull Ring New Venture Competition Kickoff on Feb. 4. Entrepreneurship Program Director Ryan Holbrook moderated an interactive session with guest panelists (from left to right) Paul Jennings, Laurelle Johnson, Jeff Marine, and Zack Schuler. Photo courtesy of Ryan Holbrook.
Twenty teams have been selected to take part in the semifinal round of California State University, Northridge's "Bull Ring" — CSUN's version of "Shark Tank" — and to have the chance to compete for part of $50,000 in prize money.
The teams, which include students in disciplines from across the campus, will "fast pitch" their ideas for a new business venture to an audience and a group of judges on Thursday, April 7. The top six teams from the semifinal competition will face off before a panel of judges on Tuesday, April 26. Third place will be awarded $5,000, second place $15,000 and first place $25,000.
The semifinals will take place from 3 to 5:30 p.m. in the Ferman Presentation Room of CSUN's Delmar T. Oviatt Library, located in the heart of the campus at 18111 Nordhoff St. in Northridge. The finals will take place from 3 to 5:30 p.m. in the Northridge Center of the University Student Union on the east side of the campus.
"It will be interesting to see what happens with the competition," said Ryan Holbrook, director of CSUN's Entrepreneurship Program in the David Nazarian College of Business and Economics. "Regardless of who ends up actually winning, any single one of these business proposals could be the seed of a fantastic business just waiting for a little boost."
The idea for the Bull Ring New Venture Competition grew out of a lunch meeting between entrepreneur and philanthropist David Nazarian and former CSUN classmate and businessman Jeff Marine. While discussing ways to encourage entrepreneurial thinking among CSUN students, the conversation strayed to a discussion about "Shark Tank" — a reality television show that has aspiring entrepreneur contestants make business presentations to a panel of "shark" investors — and the idea for the Bull Ring was born.
Holbrook said the proposals submitted in this inaugural competition ranged from new digital technologies to retail, food and beverage, and manufacturing.
"We also received a number of applications related to social causes, which was great to see," he said.
Holbrook, local business leaders, CSUN alumni and business faculty spent much of March meeting with potential contestants and hosting a series of workshops designed to give the competitors an idea of what they need to launch a startup.
Competing teams must have a minimum of two members, and at least half of the team must be comprised of current CSUN students as of the academic year 2015-16. Fall 2015 graduates were eligible. In order to compete, the "pitch" must be delivered by a current CSUN student.
The teams were asked to submit a five- to seven-page written executive summary or a 10- to 25-page slide deck and a two-minute video about their idea. The ideas were judged on their feasibility, market potential, traction and quality of presentation.
Of the 58 ideas submitted, 20 were selected to take part in the preliminary competition next week and to receive a $250 prize.
"With this being a new venture competition, we weren't quite sure what the response from the students would be," Holbrook said. "We were expecting 30 to 35 student teams to submit their business proposals. To have received almost 60 really speaks to the interest and deep-seated entrepreneurial spirit of our students.
"Many of the student teams have done a great job thinking through revenue streams, cost structure and customer segments," he continued. "Some already have a logo, a website and early prototypes. It's really exciting to see these students actively moving their ideas from paper into the 'real world!'"
The competitions are free and open to the public, though registration is required. To reserve a spot for the semifinal or final Bull Ring competition, visit the website https://www.eventbrite.com/e/csun-bull-ring-semi-finals-audience-open-to-public-tickets-21048750379.