CSUN Spreads Awareness of Deaf People Across Different Communities
California State University, Northridge, one of the nation's leading universities in deaf studies, will host a conference on social inequalities and the Deaf and hard-of-hearing community on Friday, Oct. 30.
"Social Justice: By, For, Of People," organized by the CSUN Deaf Studies Association, the Department of Deaf Studies and the Center for Teaching and Learning, will explore the intersections of identity and experience that the Deaf and hard of hearing may experience in their lifetimes.
"One of the biggest things that people don't realize is that Deaf people cross every known community," said Will Garrow, professor of Deaf Studies and an organizer of the conference. "We have to fight for the rights of all people to fight for Deaf people's rights. This conference is the foundation of all that."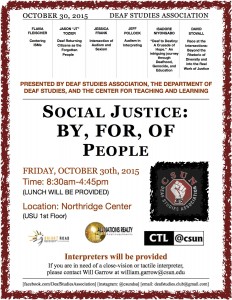 Education helps to create strong and tolerant communities, Garrow said.
"We're always looking to bring people and show what we're doing, and build bridges and bonds with people," he said.
The conference was started in 2010 in honor of Larry Fleischer, who founded the Deaf Studies program at CSUN in 1983. Originally, the conference was called "Stop Audism" — a term for the oppression of deaf people.
This year's conference features six speakers: Flavia Fleischer, chair of the department, will give a brief introduction on the issues of audism. "JT" Tozier will speak about his re-entry into society as a Deaf returning citizen. CSUN Deaf Studies professor Jessica Frank will discuss the issues of audism in correlation to sexism. Jeff Pollock, a deaf interpreter, will speak about oppression within the interpreting field. Isadore Niyongabo, who escaped the 1993 genocide in Burundi, will speak about his experiences fleeing the atrocities as a deaf individual. David Stovall, professor at the University of Illinois at Chicago, will talk about diversity and social justice.
Garrow said he is looking forward to having "all different communities coming together and sharing an experience to make this world a better place."
"Social Justice: By, For, Of People" is open to the public and will provide free lunches to the first 400 guests. The event is scheduled to take place from 8:30 a.m. to 4:45 p.m. at the Northridge Center of the University Student Union, on the east side of campus at 18111 Nordhoff St. in Northridge.
For more information, call the Department of Deaf Studies at (818) 677-5116.