Amado Lecture to Explore the Concept of 'Complex Resilience'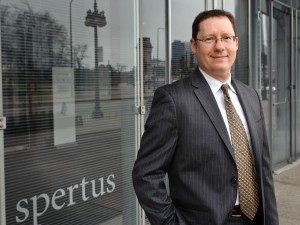 Dean Bell, ninth president and CEO of Spertus Institute for Jewish Learning and Leadership, will explore resiliency during times of crisis as a part of California State University, Northridge's tenth annual Maurice Amado Foundation Lecture in Jewish Ethics on Wednesday, Feb. 8.
Bell's talk, "Cultivating Complex Resilience and Engaging in Vulnerability in Today's Troubling Times," is scheduled to take place at 7 p.m. at the Valley Beth Shalom Synagogue, 15739 Ventura Blvd., Encino. The lecture is free and open to the public.
Jennifer Thompson, Maurice Amado Professor of Applied Jewish Ethics and Civic Engagement and director of CSUN's Jewish Studies Program, said she is excited for the lecture to resume its face-to-face format.
"Over the past several years, our society and many of us as individuals have experienced illness, fear and the breakdown of social bonds or institutions in ways we never imagined. The insights of thousands of years of Jewish civilization can help us rebuild our society in the U.S. and globally," said Thompson. "Jewish communities have produced a lot of wisdom out of the catastrophic circumstances that have befallen them so many times over the last several thousand years, and Dean Bell's lecture will give the audience an opportunity to think with this wisdom about how we can collaborate on building a better future."
Pondering the inability to return to "normalcy," Bell's lecture highlights the idea of cultivating a new kind of resilience and seeing disruption as a chance to learn and grow. Bell will discuss 'VITA (vulnerability, intentionality, trust and awareness)' a philosophy that makes this kind of complex resilience possible. Bell will continue by drawing from systemic thinking, ecology, ethics, Jewish Studies and interreligious engagement, using the philosophy of VITA to address a number of challenges experienced in our postmodern world.
As a leading voice for the advancement of Jewish higher education, Bell has served as president, vice President and secretary treasurer of the Midwest Jewish Studies Association. He has served on the faculty at a number of universities across the country, and is a widely published author of medieval and early modern Jewish history. His most recent book is "Interreligious Resilience: Interreligious Leadership for a Pluralistic World," co-authored with Michael S. Hogue. He is also the editor, with Keren Eva Fraiman, of the forthcoming "The Routledge Handbook of Judaism in the 21st Century."
The Amado Lecture is part of the mission of the CSUN Jewish Studies Program's endowed professorship, created to promote teaching and scholarship that draws on Sephardic, Ashkenazi and other Jewish traditions.
CSUN offers a major and minor in Jewish Studies. The program explores the rich heritage of the Jewish people. Using methods of different academic disciplines, it examines the experience of Jewish people in the many lands in which they have lived over the past 4,000 years, as well as contemporary Jewish life in Israel, Europe, Asia and the Americas.
For questions, more information regarding this year's lecture or to make a seat reservation contact Thompson, at jthompson@csun.edu.