Amy Brenneman, Benjamin Bratt & Annie Potts Lend Star Power to Support of Inclusive Education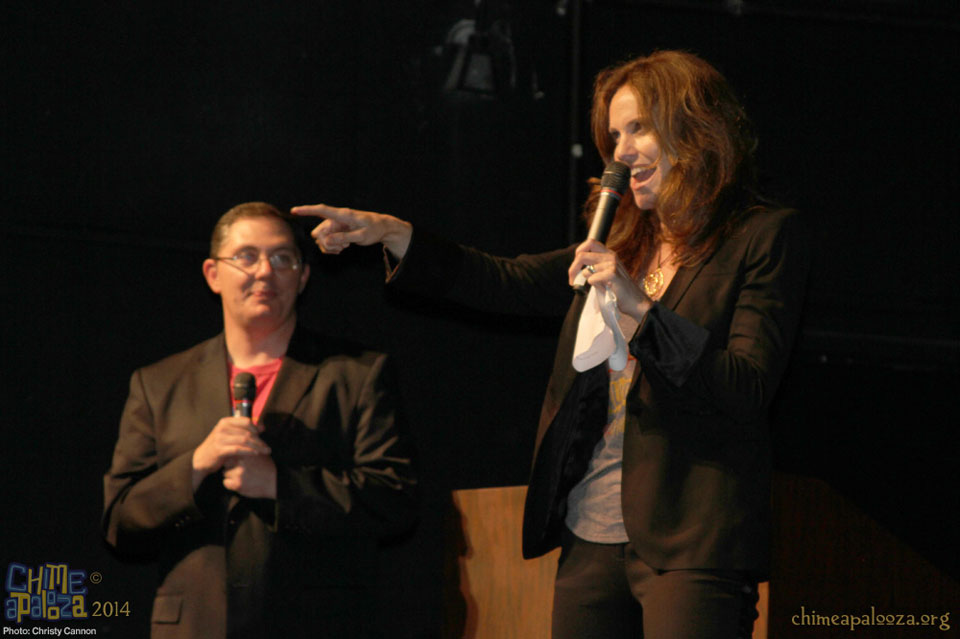 From left, Erin Studor, CHIME's exec. dir. of charter school programs, and Amy Brenneman at last year's CHIMEapalooza. Photo by Christy Cannon.
Big names in performing arts, music and the Los Angeles community come together next month to support CHIME Institute, housed at California State University, Northridge, and its unique model of inclusive education at the annual CHIMEapalooza celebration on Saturday, Feb. 21.
Acclaimed actress Annie Potts, musician Tom Morello and former Los Angeles schools superintendent John Deasy will join actors and longtime CHIME supporters Benjamin Bratt and Amy Brenneman to raise funds and awareness of the institute's mission to educate children of all abilities. The evening also will feature the musical talents of Gloria Loring, Chris Stills and others.
The celebration will be held at the El Portal Theatre located at 11206 Weddington St. in North Hollywood.
"I'm touched that all these talented performers are coming together for a special evening to support CHIME's educational programs and spread the word about our mission," said Annie Cox, executive director for CHIME Institute's Early Education Programs.
This year marks the 25th anniversary of the CHIME Institute.
"I am thrilled to be once again emceeing and helping to create CHIMEapalooza," Brenneman said. "It is so inspiring to witness the growth of this event and the mission of the CHIME Institute. CHIMEapalooza 2015 will be a wildly entertaining, funny and touching celebration of the vision of CHIME and the miracle of its many successes. There is no place like CHIME, and no event like CHIMEapalooza!"
Tickets are $65 pre-sale or $75 at the door. Ticket prices include a pre-show reception from 6 to 7 p.m., the show from 7 to 9 p.m. and a post-show party. To purchase tickets, visit www.CHIMEapalooza.org.
Established in 1990, the CHIME Institute is a national leader in developing and implementing model educational programs and dynamic research and training environments to disseminate best practices in inclusive education. The institute's research and training center is housed in California State University Northridge's Michael D. Eisner College of Education.
The institute began with an early childhood education program based on the CSUN campus. The success of that program, coupled with needs of the community and sound research, prompted a group of parents and CSUN faculty to develop a public charter elementary school in 2001 and a public charter middle school in 2003. The two schools merged into a K-8 school located in Woodland Hills in 2010.
CHIME also serves as a model for educators through its partnerships with the Eisner College and the Los Angeles Unified School District. It facilitates research opportunities and regularly hosts visitors from around the United States and the world who are interested in replicating its successes in their own schools. The institute has been recognized by the U.S. Department of Education as a model for full inclusion of students with disabilities and for providing a blueprint for local schools across the country.
Proceeds from the CHIMEapalooza will go toward supporting inclusive practices in the institute's early educational programs and charter school. For more information about the CHIME Institute, call (818) 677-4979 or (818) 346-5200 or visit its website www.chimeinstitute.org