Author to Discuss Her Story About the Fight for School Equality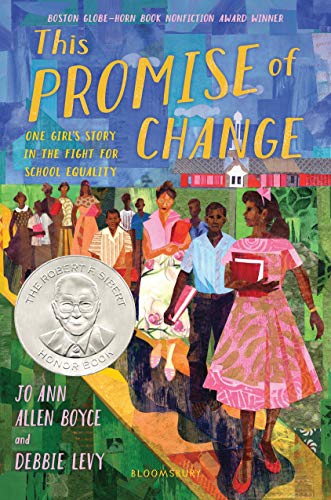 JoAnn Allen Boyce, who helped desegregate Tennessee's public schools as a teenager, will talk about the children's book she co-authored about her experience during a virtual presentation on Thursday, Feb. 25, as part of California State University, Northridge's Black History Month celebration.
Boyce will discuss her book, "This Promise of Change: One Girl's Story in the Fight for School Equality," during an event scheduled to take place at 6:30 p.m. over Zoom. The discussion is being hosted by CSUN's Family Focus Resource Center.
Born in 1941, Boyce grew up in a primarily African American neighborhood in Clinton, Tenn., during a time when Jim Crow laws — state and local laws that enforced racial segregation — were prevalent. In 1954, the U.S. Supreme Court ruled in Brown v. Board of Education that U.S. state laws establishing racial segregation in public schools were unconstitutional. The ruling meant that Clinton's all-white high school would have to accept African American students.
In August of 1956, Boyce joined 11 of her African American classmates in front of their former elementary school. They held hands and said a prayer before walking to Clinton High School down the hill.
The students were initially met with quiet resignation, but within days, chaos erupted. Young people held up anti-segregation signs, and crowds gathered to shout racial epithets and spit at the teenagers. The Black teenagers were pelted with rotten food, rocks and sticks. As tensions continued to escalate, Boyce's parents moved their family to Los Angeles in December 1956.
Boyce graduated from Los Angeles' Dorsey High School in 1958 and attended Los Angeles City College, where she earned an associate degree in nursing. She became pediatric registered nurse and worked for a pediatrician with a private practice for 10 years. She then took a job with Children's Hospital Los Angeles, where she worked for 30 years before retiring.
Boyce partnered with acclaimed children's book author Debbie Levy to tell the story of her time in Clinton and share what happened to her and her classmates as they integrated the town's high school. "This Promise of Change: One Girl's Story in the Fight for School Equality," published in 2019, is written in verse and intended for readers ages 10 years and older.
CSUN's Family Focus Resource Center, housed in the Michael D. Eisner College of Education, offers programs and services to support families with children with special needs.
While attendance for Boyce's talk is free and open to the public, registration is required. To register, visit the website https://www.csun.edu/family-focus-resource-center/news/family-focus-hosts-author-black-history-month.