Award-winning Comics Artists MariNaomi and the Gibbs Sisters to Speak on Women Comics of Color Panel
Celebrated comics artists Shawnee and Shawnelle Gibbs and MariNaomi will speak about their experiences on Wednesday, March 30, at California State University, Northridge.
The Women Comics of Color panel will take place from 1 to 3 p.m. at the Flintridge Room in the East Conference Center at the University Student Union, on the east side of the campus, at 18111 Nordhoff St. in Northridge.
The Gibbs sisters are an award-winning writing, producing and animation team, who have created works such as the animated short, "Ravishing Raspberry," the popular online animated series, "Adopted by Aliens" and "Old Ladies Driving,"  and have contributed to television shows such as "Top Chef," "Project Runway," "X-Factor" and "The Ultimate Fighter."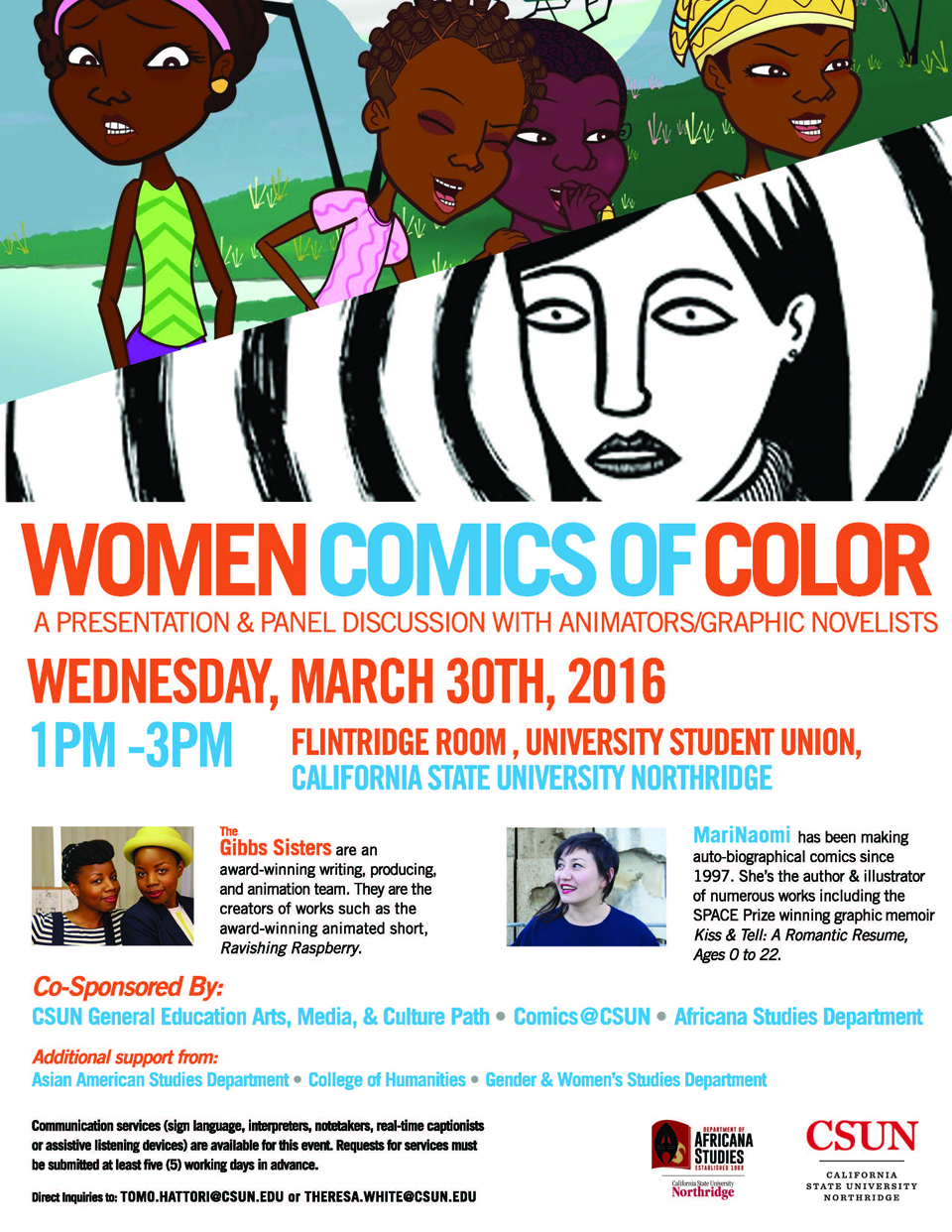 MariNaomi is the author and illustrator of the Small Press and Alternative Comics Expo Prize-winning graphic memoir "Kiss & Tell: A romantic Resume, Ages 0 to 22," the Eisner-nominated "Dragon's Breath and Other True Stories" and the upcoming "Turning Japanese." Her website provides unique databases of LGBTQ artists and artists of color. Her work has been featured on online literary blogs The Rumpus and The Weeklings, and the Los Angeles Review of Books.
Africana studies professor Theresa White, who teaches courses such as "Black Images on the Silver Screen" and "Popular Culture in the Black World," said the event offers an opportunity for students to interact with accomplished, local artists of color such as the Gibbs sisters and MariNaomi, who are based in Los Angeles.
"It's good to show our students that there is a burgeoning field where there are women of color working in animation and graphic novels, comic novels and comic books," White said. "Many of whom are working within the cutting-edge artistic genre of Afro-futurism — mixing cyberspace, futurism, history and afrocentricity — which creates an interesting cultural synergy between science fiction and social justice."
The panel is sponsored by the General Education Arts, Media and Culture Path, which offers students a way to explore the arts through a selection of classes that also fulfill their general education requirements. The path's coordinator and Asian American studies professor Tomo Hattori said the event encourages student engagement with faculty research in the arts.
"As coordinator of AMC path, I'm looking for ways to engage faculty in collaborations that would attract students and get them exposed to what faculty scholars care about," Hattori said. "The AMC path won't just focus on comics, but it will focus on faculty interests and what they are passionate about in their research."
The panel is part of a series of events put on by Comics@CSUN, a collaborative arts initiative coordinated by English professor Charles Hatfield. The program has hosted many events this school year, including an art exhibition in 2015 featuring the works of legendary comics artist, Jack Kirby; a series of screenings of comics-inspired films; Comics and Visual Culture, a one-day conference showcasing student research; and finally, the Women Comics of Color panel.
"Comics scholarship has exploded over the past decade, and academia is paying attention to comics—including graphic novels, comic books, comic strips and webcomics—as never before," Hatfield said. "Comics@CSUN is our response to this upsurge of interest: an interdepartmental and inter-college collaboration that brings together diverse faculty to advance comics studies and teaching across campus. My 'Comics and Graphic Novels' classes are reading MariNaomi's 'Dragon's Breath' this term, so I'm looking forward to taking students to this panel."
For more information, visit www.csun.edu/comics.