Celebrating CSUN's Multifaceted Asian American Pacific Islander Community
Asian American and Pacific Islander (AAPI) Heritage Month, observed during the month of May, celebrates the community and their achievements in the United States. In 1978, Congress first instituted Asian/Pacific American Heritage Month to showcase the diverse and myriad groups that make up the nation's AAPI communities, and to spread joy and knowledge about their cultures. The May timing commemorates May 7, 1843, which marks the first arrival of Japanese immigrants to America, and May 10, 1869, the day work crews from East and West Coasts completed the nation's first transcontinental railroad — built in large part by Chinese immigrants. In 1990, Congress extended the commemoration to a full month, now best known (especially in Southern California) as AAPI Heritage Month.
We interviewed five CSUN students to learn more about their background, AAPI identity, and how they express and embrace their culture.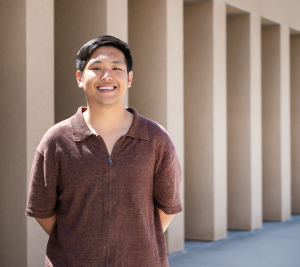 Raphael Lee, 24, Korean American, Dreamer: A proud Korean American Dreamer, Lee immigrated from South Korea to Los Angeles' Koreatown at a time when Korean culture was being widely celebrated. He completed his bachelor's degree in Recreation and Tourism Management at CSUN, and he's now pursuing a master's in Higher Education Leadership and serves as the graduate senator for Associated Students.
"I was not really comfortable sharing my culture when I moved here in my freshman year of high school and had a language barrier," he said. "When I started high school, Korean culture in America was slowly increasing and becoming well known. I just felt a bit uncomfortable being one of a small community of Asians. But now I feel much more comfortable to celebrate, share and showcase my culture and identity."
Nelofer Siddiqui, 24, Indian and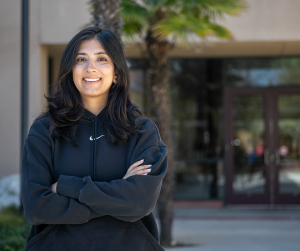 Pakistani: Siddiqui is the daughter of an Indian mother and Pakistani father who immigrated from their home countries. She celebrates her culture by spending quality time with her family in America and in Pakistan.
"I definitely carry the community aspect of my culture," Siddiqui said. "Something that I really love about my culture is whenever I visit my family in Pakistan or family that lives here, it's usually a lot of people living in one house — and there's a lot of support and love within our family. American culture has more of an individual emphasis, but I love how I can depend on my family and cousins for support."
Deki C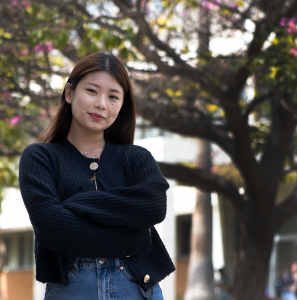 hhime Lhamo (Chimmie), 21, Bhutanese: Lhamo celebrates her Bhutanese culture by learning how to cook traditional foods and studying her cultural roots and history.
"What I'm most proud of about my culture is the GNH (gross national happiness), which is kind of how countries measure GDP (gross domestic product) — but in Bhutan, they value gross national happiness," she said. "This was developed by our fourth king and focuses on our wellbeing and happiness, which a lot of countries don't focus on."
Being from a very small country in Asia, Lhamo teaches others about her culture by cooking traditional dishes that she learned from her mom.
Kneo Fl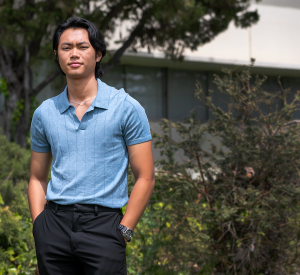 ores, 22, Filipino American: A son of Filipino immigrants and a cinema and television arts (CTVA) major, Kneo has had to balance his artistic passion with cultural expectations. He explored several career paths while attending a competitive high school, but found his community in filmmaking. He's a senior graduating this fall from CSUN's Mike Curb College of Arts, Media, and Communication.
"Being Filipino, I'm usually expected to go into the medical field or some type of high-income position," he said. "In high school, I had so many different phases — like doing debate and wanting to be a lawyer. [Later], I switched to game development. My mom was a cardiac tech and my dad is an MRI tech, so they pushed me to join the medical field. … Right after I sent my college applications, I needed service hours for my school and volunteered for a TV announcement program. I worked on a short film and realized, this is what I want to do. But the only hard part, even as a CTVA major, is finding support within my culture to pursue film."
Kaley
Block, 20, Asian American adoptee: Born in China and raised in New York City, Block spent a lot of time navigating and learning about her culture while being in a predominantly White household.
"Cultural rediscovery is what pushed me closer toward the APIDA community (Asian Pacific Islander Desi American, a pan-ethnic classification that intentionally includes South Asians), even though it was self-driven and I never had that community around me pulling me closer to those things. But when I went to seek out the community, I realized I was so much more connected than I thought. Being an Asian American studies major, the department was my first point of contact at CSUN. A lot of professors and my classmates were the start of my Asian community. Since it's such a tight-knit department, they're always offering resources and club meetings and promoting ways to create community, because that can be so hard at such a large institution. I also truly value the APIDA community at CSUN and how they're constantly championing my growth and welcoming me to events."
Block is double-majoring in Asian American Studies and Journalism Public Relations, and she serves on the board member of the Asian American Journalists Association. She also interned for CSUN's Asian American Studies Pathways Project.