Classical, Broadway, Best of Local High School Talent Kick Off VPAC's New Year
The Valley Performing Arts Center at California State University, Northridge will present an eclectic mix of classical, legendary Broadway and emerging talent as it starts its spring 2014 season with hallmark performances by the Royal Philharmonic Orchestra with Pinchas Zukerman, Chita Rivera and the first-ever high school San Fernando Valley musical theater showcase.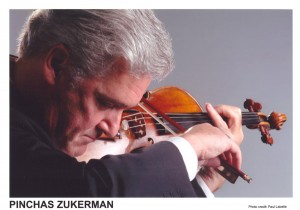 "KUSC Presents the Royal Philharmonic Orchestra with Pinchas Zukerman, principal guest conductor, and Amanda Forsyth, cello," will start the new year on Saturday, Jan. 18, at 8 p.m. The program will feature "Violin Concerto in A minor" by Bach, Shoenberg's "Varklärte Nacht, Op. 4" and Brahms' "Double Concerto in A minor, Op. 102."
The Royal Philharmonic Orchestra has featured a world-class ensemble from the finest musicians in the United Kingdom since 1946. For the past decade, Zukerman has become as equally regarded a conductor as he is an instrumentalist, leading many of the world's top ensembles in a wide variety of the orchestral repertoire's most demanding works.
Born in Tel Aviv in 1948, Zukerman studied music with his father, first on the recorder and clarinet, and later on the violin. He soon began lessons with Ilona Feher and came to the United States in 1962 with the support of Isaac Stern, Pablo Casals and the America-Israel and Helena Rubinstein Foundations. He began his studies at The Julliard School with Ivan Galamain and, in 1967, was named first-prize winner of the 25th Leventritt Competition. He holds an honorary doctorate from Brown University and an Achievement Award from the International Center in New York.
Cellist Amanda Forsyth is acclaimed as both a soloist and a chamber musician. A Juno Award winner, she has earned praise from audiences and critics alike. Forsyth has appeared with orchestras throughout the world, including the Chicago, the Montreal and Israel Philharmonic Orchestras. Born in South Africa, Forsyth moved to Canada as a child and began playing cello at age three. She was a protégé of William Pleeth in London and later studied with Harvey Shapiro at The Julliard School. After two seasons with the Toronto Symphony Orchestra, she became the youngest principal cellist ever selected by the Calgary Philharmonic Orchestra, a post she held for six years.
"CHITA: A Legendary Celebration," on Saturday, Jan. 25, at 8 p.m., will showcase highlights from Rivera's career. Trained as a ballerina from age 11, Rivera received a scholarship to the American School of Ballet from George Balanchine. Her first appearance, at age 17, was as a principal dancer in "Call Me Madam." Her electric performance as Anita in the Broadway premier of "West Side Story" in 1957 brought her to stardom. Her career included starring roles in "Bye Bye Birdie," The Rink," "Chicago," "Jerry's Girls," "Kiss of the Spider Woman," and the original Broadway casts of "Guys and Dolls," "Can-Can," "Seventh Heaven" and "Mr. Wonderful."
Rivera was awarded The Presidential Medal of Freedom by President Barack Obama in 2009. She received a Kennedy Center Honor in 2002, and was the first Hispanic woman to ever receive the award. She also won two Tony Awards, for "The Rink" and "Kiss of the Spider Woman," and received several nominations.
Students from seven local high schools will join forces on Friday, Jan. 24, for the San Fernando Valley's first ever high school musical theater showcase, "It's Showtime, Folks: Celebrating 60 Years of Bob Fosse." The evening will feature performances from "The Pajama Game," "Chicago," "Cabaret," "Sweet Charity" and others.
Participating high schools include ArTES High School, Campbell Hall School, CHAMPS Charter School of the Arts, El Camino High School, Louisville High School, Northridge Academy High School and Valley Academy of Arts and Sciences. They will be joined by choreographers who have studied dance at CSUN.
"For many years, Cal State Northridge has hosted art exhibits in our galleries by talented youth from our community," said Anthony Cantrell, director of arts education for the Valley Performing Arts Center. "This year, we are expanding our university's arts showcases to include a performance by talented singers and dancers from high schools throughout the Valley.
"We've been working with these talented youth, their teachers and local choreographers throughout the fall semester to educate them about Bob Fosse, musical theater and the arts of performance," Cantrell said. "Now, we are so excited to show off what we've created together."
The 1,700-seat Valley Performing Arts Center has established California State University, Northridge as a hub for culture and performing arts in the region. It was recently voted one of the top 10 performing arts centers and theaters in Los Angeles by Time Out Los Angeles. For more information, visit the center's website at www.valleyperformingartscenter.org or call the ticket office at (818) 677-3000.