CSUN Art Exhibition, Creative Events and Social Justice Conference Celebrate Social Justice Struggle Among Deaf People of Color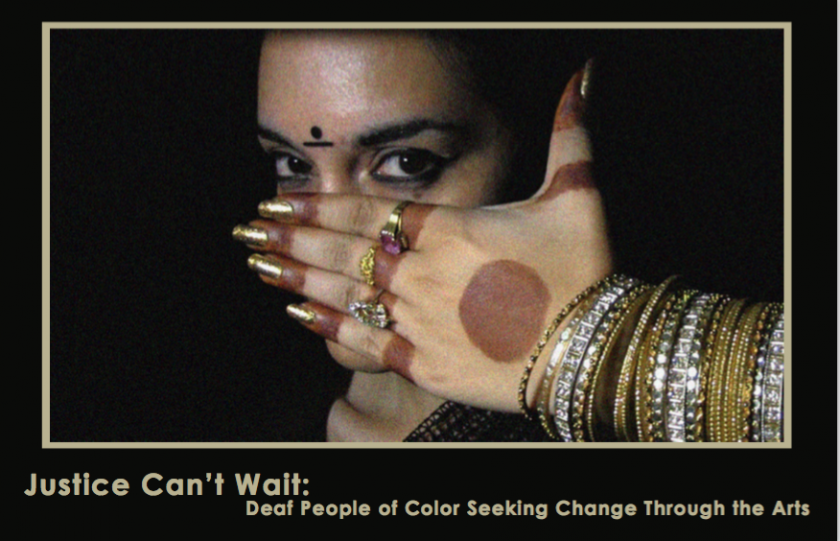 Questions of identity, oppression, the pervasiveness of audism, language deprivation, racism and resistance are just a few of the topics being explored in the art exhibition, "Justice Can't Wait: Deaf People of Color Seeking Change Through the Arts," and a week of corresponding events, including the annual conference "Social Justice: BY, FOR, OF People," at California State University, Northridge.
The art exhibition is on display at the CSUN Art Galleries West Gallery on the north side of campus through November 2. The full-day social justice conference is scheduled for Friday, Oct. 28, from 8:30 a.m. to 5 p.m. in the University Student Union Northridge Center.
Despite the recent increased awareness about Deaf issues in popular culture with the rising fame of Deaf actor and television star Nyle DiMarco, there is still a need to highlight the intersectional experiences of Deaf people of color — who struggle with multiple, overlapping forms of oppression and discrimination, said Lissa Stapleton, assistant professor of Deaf studies at California State University, Northridge and co-curator of the exhibition.
"We're a long way from equity for people who are Deaf, and especially Deaf people of color," Stapleton said. "Deaf people of color experience forms of oppression — audism, racism, sexism, etcetera. There is often an invisibility of their contributions, perspectives, ways of being and resistance to oppression. This knowledge is missing from our books and our history, but it's so vital to all people to understand Deaf experiences broadly and Deaf people of color more specifically."
Stapleton said the exhibition and programming creates a supportive space for Deaf artists of color to share their thoughts and perspectives on myriad social justice issues. The artists' work illuminates their intersectionality, their journey, their talent, and their experiences as Deaf people of color who are often overlooked by the community at large, said Stapleton.
The exhibition features 20 works of art by 10 Deaf artists from the United States and Australia. The artists explore a variety of social justice issues through paintings, cartoon drawings, mosaics, dance, American Sign Language (ASL) poetry, video and more. Among the artists are cartoonist Shawn Richardson, whose work has been featured at the Dyer Arts Center in Rochester, N.Y., and Sabina England, named "Emerging Artist of the Year 2016" by the St. Louis Visionary Awards.
CSUN art professor Mario Ontiveros, co-curator of the exhibition, said the small space of the West Gallery will hold a multitude of artistic expression.
"As a curator, this is an important exhibition because the artists use art in an empowering way," Ontiveros said. "Some offer sociopolitical and cultural critiques — such as addressing the intersection of Black Lives Matter with Deaf issues. Some artists demonstrate the ways cultural production can create safe and affirming spaces, while still others focus on imagining the world differently than how it currently exists."
On Saturday, Oct. 29, the exhibition also will showcase the work of young student artists from Marlton School, the Los Angeles Unified School District's public school for children who are deaf or hard of hearing.
"It's important that we include young Deaf people in the exhibition," said Stapleton. "Oftentimes, Deaf children are only taught by white, hearing educators, so they lack Deaf, and, specifically, Deaf role models of color. We want to highlight their budding artistic talents, actively include them in the social justice conversation, and get them onto campus where they are exposed to college and Deaf artists of color through the exhibition."
The full schedule of corresponding events includes:
Wednesday, Oct. 26 – Afro-Cuban Dance through ASL with Antoine Hunter. 5:30 to 7:30 p.m. in Redwood Hall room 292.
Friday, Oct. 28 – Social Justice: BY, FOR, OF People conference. From 8 a.m. to 5 p.m. at the USU Northridge Center.
Saturday, Oct. 29 – Marlton School Student Art Exhibit and Family Fun Day with Deaf Education And Families Project. From 11a.m. to 3 p.m. at the Art and Design Center room 300. (For more information: deafproject@csun.edu.)
Tuesday, Nov. 1 – Viewing of film, "Deaf Jam," which highlights a young, Deaf, Israeli-born teenager coming to understand and connect with her Deaf identity through art and poetry. From 6-8 p.m. at the Valley Performing Arts Center Kurland Lecture Hall (LA 100).
Wednesday Nov. 2 – ASL Poetry Workshops with Jeremy Lee Sanchez. Three workshops held at 9:15 a.m., 10:45 a.m., and 2:45 p.m. in Education Hall rooms 1214/1216. RSVP required by Oct. 31: lissa.stapleton@csun.edu
The exhibition and corresponding events are a collaborative effort of the CSUN Department of Deaf Studies; Michael D. Eisner College of Education; Mike Curb College of Arts, Media, and Communication; College of Social and Behavioral Sciences; CSUN Art Galleries; Deaf Education And Families Project; CSUN Office of the Provost; CSUN Deaf Studies Association; the National Center on Deafness; Sorenson Communications and Marlton School.
All events are free and will be interpreted in American Sign Language. Guests requiring close-vision or tactile-interpreting can contact Christine Mitchell at christine.mitchell@csun.edu.