CSUN Art Gallery Multimedia Exhibition Honors Undocumented Student Achievements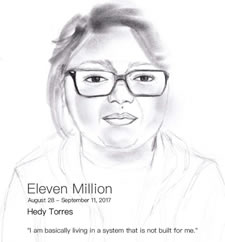 (NORTHRIDGE, Calif., Aug. 29, 2017) — Undocumented students are widely recognized as an underserved population and are given little recognition in light of their achievements.

California State University, Northridge Master of Arts student Hedy Torres wants to change that by highlighting the accomplishments of CSUN's undocumented students — who have maintained high academic standing — through her multimedia project titled "Eleven Million," on exhibition in the university's West Gallery through Sept. 11.   
The project utilizes time-lapse drawings and audio recordings to help audiences visualize the stories and struggles of each student whose presence in the United States is hidden and tenuous as a result of the unstable immigration climate.

"The DACA (Deferred Action for Childhood Arrival) program protects eligible undocumented children from deportation and permits them to study and work in the United States," Torres said. "However, the current administration has threatened the program's future; of about 800,000 DACA recipients, 200,00 are from California. The works in this exhibition honor DACA students by sharing their stories."
Jim Sweeters, director of the CSUN Art Galleries, said the exhibition comes on the heels of Torres being awarded the 2017 Matadors Community Credit Union Award by the CSUN Arts Council.
"This was a competition between both graduate and undergraduate students, sponsored by the Matadors Community credit union and open to all students of the Mike Curb College of Arts, Media, and Communication," Sweeters said. "It's the third year (of the competition) and it's the first time that a visual arts student has won."
A reception for the exhibition will be held on Saturday, Sept. 9, from 4 to 6 p.m. in the West Gallery at 18111 Nordhoff St. in Northridge. The West Gallery is located inside the Art and Design Center on North University Drive (Plummer Street) between Lindley Avenue and Etiwanda Avenue. The Art Gallery hours are from noon to 4 p.m., Monday through Saturday, and noon to 8 p.m. on Thursday.
This exhibition is sponsored by the CSUN Arts Council, Matadors Community Credit Union and the CSUN Art Galleries. For more information, call Erika Ostrander at (818) 677-2156 or visit www.csun.edu/artgalleries.