CSUN Builds iPad App For 'In Protest' Exhibit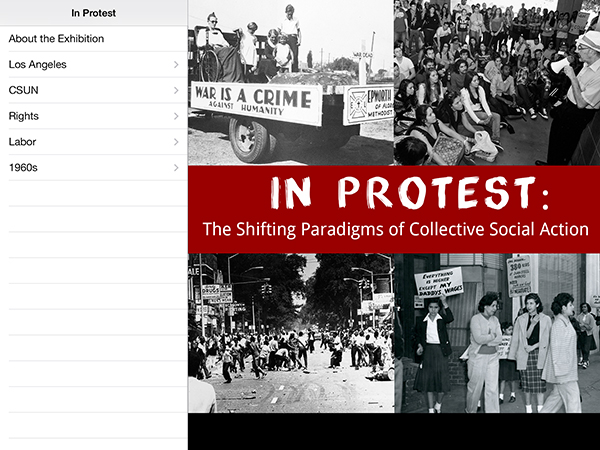 In the age of mobile computing, quick access to information is a key element in any situation. The staff at California State University, Northridge's Delmar T. Oviatt Library has launched an iPad app for their "In Protest: The Shifting Paradigms of Collective Social Action" exhibition. It is the first in the library's history, and complements the mobile push on campus seen in the release of the official CSUN app and the myCSUNTablet initiative, both of which were unveiled in the fall of 2013.
The "In Protest" app displays companion selections from CSUN's Special Collections and Archives that document dozens of distinct and significant social action movements over the course of the 20th century, including the Zoot Suit Riots, anti-war protests and school walk-outs.
"The app gives visitors an opportunity to reflect on objects in the exhibition from an alternate perspective, adding another dimension to the significance of these items," said Elizabeth Altman, interim director of library information for the Oviatt. "Items in the live exhibit are grouped by theme in 11 cases. The app presents selected items from across the exhibition in five alternative subject-based groupings — Los Angeles, CSUN, Rights, Labor, and the 1960s — and maps their placement on the live exhibit floor."
Users of the app also have the option to share each captioned image on the social media sites Pinterest, Facebook and Twitter. Mark Stover, dean of the Oviatt Library, believes that this is an important step in developing exhibitions at CSUN, calling it "an important development for the Oviatt."
The Oviatt Library is located in the heart of CSUN's campus at 18111 Nordhoff St. in Northridge. Parking on campus is $6. The exhibit and its accompanying series of events are free and open to the public. "In Protest" is viewable during regular library hours.
For more information about the exhibition, please call (818) 677-2638, or visit the Exhibitions and Events page on the library's website. Persons with disabilities needing assistance and deaf and hard-of-hearing persons needing interpreters, please call the above number in advance for arrangements.