CSUN Film Screening to Explore Impact of Youth Violence, Bullying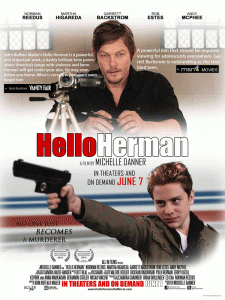 Members of the public are invited to join the cast and staff of California State University, Northridge's Teenage Drama Workshop for a free screening of "Hello Herman," a film that explores the impact of youth violence and bullying.
The screening is scheduled to take place at 7 p.m. on Thursday, June 27,  in the Little Theatre in CSUN's Nordhoff Hall located near the southwest corner of the campus at 18111 Nordhoff St. in Northridge.
"Hello Herman"—directed by Michelle Danner and starring Norman Reedus, Martha Higareda, Garrett Backstrom, Rob Estes and Andy McPhee—is the story of 16-year-old Herman Howard, who goes on a shooting rampage at his school, and the reporter he asks to tell his story.
"With all of the events currently happening in the news related to youth violence and bullying, the screening of the film presents a wonderful opportunity for us at Teenage Drama Workshop and in the community to discuss issues that have a real impact on our young people," said Doug Kaback, a CSUN theater professor and director of CSUN's Teenage Drama Workshop. "This is a movie about a tough subject, but a crucial one for us to explore as a community."
After the screening, the film's director, Danner, some of its actors and CSUN faculty will take part in a forum to discuss issues raised by the movie.
While the screening is free, seating is limited so reservations are required. To reserve seats, call (818) 677-5811 or email tadw@csun.edu.
The screening is also sponsored by the Valley Trauma Center and CSUN's Institute for Community Health and Wellbeing.
Teenage Drama Workshop started out 56 years ago as an activity for teens to call attention to the cultural resources available at what was then San Fernando Valley State College. Over the years, the workshop has grown into a nationally acclaimed drama program for teens, drawing students from across the country. The workshop is open to students entering grades 7-12.
For more information about CSUN's Teenage Drama Workshop, visit its website www.csun.edu/tadw.