CSUN Grad Student Helped Shape Eddie Redmayne's 'Danish Girl'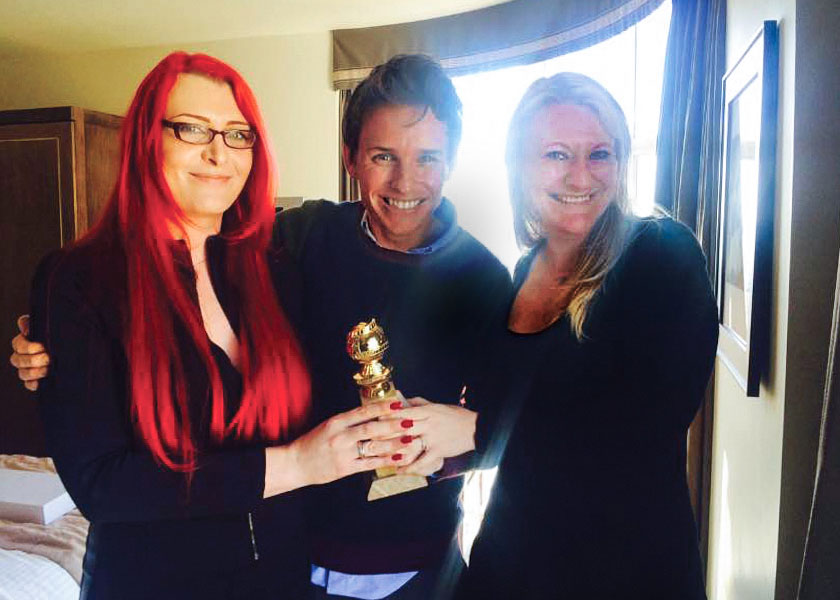 Cadence Valentine (left) and her partner, Trista Hidalgo, (right) with Eddie Redmayne shortly after he won a Golden Globe for his performance in "The Theory of Everything." Photo courtesy of Cadence Valentine.
Cadence Valentine, a graduate student in social work at California State University, Northridge, recognized years ago that the media can be a powerful tool in helping people overcome their prejudices and preconceived notions about people who they think are different.
When Valentine received an email last year from Oscar-winning actor Eddie Redmayne asking to meet with her as part of his research for his role in the now critically acclaimed "The Danish Girl," the 35-year-old gave his request careful consideration, and then said yes.
"It was the kind of email that anyone would send — no pretense, no Hollywood anything – just like Eddie," she said. "He had heard that I was a trans woman, that I have a partner who was with me for 11 years prior to transition and followed me through transition, and that we're still together today, almost 15 years now. He wanted to talk because our experiences —  of me and my partner, Trista — were similar to the ones in 'The Danish Girl.'''
Redmayne spent hours talking to Valentine and her partner, exploring the dynamics of their relationship and the strength of their commitment to each other when Valentine, then a perceptually male heterosexual, came out to Trista Hidalgo in 2011 and later transitioned.
"We pretty much opened up our entire lives to him and gave him a peak of what this whole experience was like," Valentine said. "He was just amazing. I had been very, very nervous given all the politics in Hollywood and its representation of trans people. He understood. We both agreed that there are valid and inarguable problems regarding trans representation in the media. He got it, and I trusted that he would do a good job."
Critics have lavished praise on Redmayne's portrayal in "The Danish Girl" of 1920s landscape artist Einar Wegener, who transitions to Lili with the help of wife Gerda. But for Valentine, an advocate for the transgender community, the true test was whether Redmayne's character accurately reflected what it is like to be transgender for her.
"His depiction is very genuine," Valentine said. "The film is astounding. It is, in my opinion, flawless.
"There are little pieces of dialogue in the film, scenes in the film that are almost direct representations of stories we told him," she continued. "My partner and I sat in a screening of the film holding each other's hand, and every time one of those moments happened, we'd look at each other crying, squeezing the other's hand."
Valentine first attended CSUN from 2004 to 2006, studying cinema and television arts. But she dropped out to start her own business — a hot rod shop that customized cars.
"I did the whole masculine thing in my previous life: was a Marine, built hot rods and raced cars, and traveled the world doing it," she said.
Valentine returned to CSUN a few years ago and earned her bachelor's degree in psychology with a minor in queer studies in 2014. She initially thought she wanted to serve as a counselor for others, including trans people, their families and loved ones. But as she became involved with CSUN's Pride Center, which serves lesbian, gay, bisexual, transgender and queer students, and helped establish programs for the campus' trans community, her focus shifted.
"I came to CSUN with one direction in mind, but there came a specific point in my life when I realized that was not going to be my journey," she said. "I've learned to master spinning lots of plates. As an undergrad I worked at the Pride Center while also working for a nonprofit in Hollywood as a coordinator of its HIV education and prevention program for trans women and MSM (men who have sex with men) community.
"While I was still dealing with all the hardships of being a trans woman, I also had a lot of privilege," Valentine continued. "My story is so rare. Unfortunately, a lot of other trans people who come out do not have partners who support them. The partners aren't bad people. When you are in a heterosexual relationship and your partner does not identify with the ideas you thought both started out with, you have to make a decision. It can be hard for somebody who defines themselves as heterosexual, not a de facto lesbian or queer. Just like one's gender identity, sexual identity also isn't a choice."
Recognizing the gift her partner, Trista Hidalgo, has given her —  her unwavering love and support  — Valentine decided to become a public and vocal advocate for the trans community.
"I don't see how I could not," she said.
Valentine has been invited by CSUN faculty to educate their classes about the trans community. She founded and helped organize CSUN's now annual Trans Awareness Week. She has educated students at various CSU campuses, USC, UCLA, Antioch University, Cal Arts and many more. She has also worked with the Los Angeles Police Department to educate law enforcement officials about the issues facing the transgender community and dispel misconceptions about trans people.
She also is part of a national effort to get health insurance companies and health care providers to remove exclusions of coverage based on gender identity and expression. Her first target several years ago was here in California. Kaiser Permanente, her health care provider at the time, refused to provide her coverage for her transition. She fought back and won, not only getting coverage for her transition, but for all trans Kaiser members who followed her. Kaiser is now considered a leader in the coverage it provides to the transgender community. Her efforts also contributed to changes at the state level, eliminating exclusions of coverage based on gender identity and expression in Medi-Cal recipients.
Valentine noted that there is some irony with her work on one of Hollywood's most talked-about films of the year, "The Danish Girl."
"The trans community seems to be a favorite topic to mine in Hollywood at the moment, with not only 'The Danish Girl,' but 'Orange is the New Black,' 'Transparent' and other shows," she said. "Yet its unions, SAG-AFTRA and others, exclude trans coverage in their own group insurance policies. Someday soon, I hope that changes."
In the meantime, Valentine is balancing even more plates in the air as she organizes a series of lectures CSUN Women's Research and Resource Center to take place at the university next spring called "Behind Closed Doors."  The lectures will center around topics such as BDSM and discussions around Sex Work and decriminalization. She continues to accept requests to speak – across the country. She's taking advantage of the opportunities "The Danish Girl" presents for her to educate people about what it is like to be a trans person.