CSUN hosts spotlight discussion on Ukraine war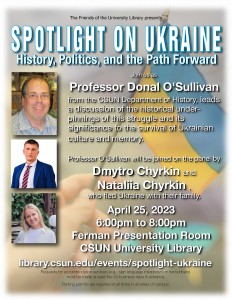 As the deadly conflict between Russia and Ukraine carries over into another year, the images of overrun cities and stories of lives lost continue making headlines.
To better understand the war, a discussion on the ongoing struggle and its significance to the survival of Ukrainian culture will take place at California State University, Northridge on Tuesday, April 25, from 6-8 p.m. in the Ferman Presentation Room of the University Library, located in the center of the campus at 18111 Nordhoff Street.
The discussion, "Spotlight on Ukraine-History, Politics, and the Path Forward", will include a live presentation and consist of first-person accounts by a Ukrainian family who recently left their war-torn nation and immigrated to California. This event is sponsored by the Friends of the University Library and free and open to the public.
A summary of the history of Russian-Ukrainian political and cultural conflicts over the last several decades leading to the present conflict will be given by CSUN history professor Donal O'Sullivan, who regularly teaches classes in Russian and German history.
O'Sullivan won the CSUN Distinguished Teaching Award in 2009 and the College Teaching Fellowship in 2012. His dissertation was on Soviet policy in Eastern Europe and the Western response, while his next book was "Dealing with the Devil: Anglo-Soviet Intelligence Co-Operation During the Second World War."
Ukrainian couple Dmytro and Nataliia Chyrkin will also discuss their departure from their home city of Odessa, their perilous journey undertaken separately with their two children and reuniting in Germany before coming to America.
"The war in Ukraine is one of the most crucial geo-political events in the world today," said Mark Stover, Dean of the University Library. "I'm looking forward to hearing from our panel of experts who will discuss the ongoing crisis. I anticipate that the panelists will share important insights and perspectives, providing a valuable forum for discussion and debate on this pressing issue."
A Q&A will follow the panel discussion and will be moderated by Robert Gohstand, geography professor emeritus.
This public event will be held in the university library's Ferman Presentation Room on April 25 from 6–8 p.m. The library is located in the center of the campus at 18111 Nordhoff Street.
To register to attend the event, visit library.csun.edu/events/spotlight-ukraine or call (818) 677-2638.
Requests for accommodation services must be made at least five business days in advance. Email library.event@csun.edu in advance of the event.