CSUN Library Exhibit Spotlights the Golden State
The Delmar T. Oviatt Library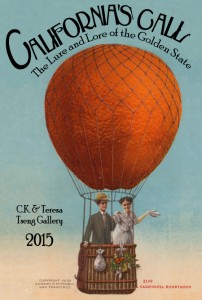 at California State University, Northridge is unveiling a new exhibit next month that explores the optimistic role that California has played in the American psyche.
"California's Call: The Lure of the Golden State," includes a wide range of rare materials from the late 19th century that cohesively tell the story of a land out west, brimming with prosperity and promise. The exhibit officially opens on Feb. 2 and will be on display in the C.K. and Teresa Tseng Gallery in the east wing of the library's second floor, through Dec. 23. "California's Call: The Lure of the Golden State," is free and open to the public.
"Almost all of the items in this exhibit came from the California Tourism and Promotional Literature Collection, which spans the years 1860-1990," said Kelsey Knox, the exhibit's curator and the Oviatt Library's Los Angeles Archivist. "As someone who grew up in California, I had never given the lure of California much thought. To me, it was just home. I found it really interesting to look at all the materials that were created to draw people to California and to see how advertisers worked to make California such a popular destination."
The exhibition includes pamphlets, posters, books and brochures. Also on display are journals and photo albums that convey unique and personal stories about the state and about many of the people who traveled to California in search of sunshine, health and good fortune.
The Oviatt Library is located in the heart of the university's campus at 18111 Nordhoff St. in Northridge. Parking on campus is $6. For more information about the exhibit, please call (818) 677-2638, or visit the Exhibitions and Events page on the library website. Persons with disabilities needing assistance and deaf and hard-of-hearing persons needing interpreters can call the above number in advance for arrangements.
CSUN's Oviatt Library has more than 1.4 million volumes. It also subscribes to nearly 53,000 online journals, more than 2,300 print journals, more than 200 online databases and nearly 275,000 eBooks. The library's online resources are heavily used, with almost 13 million visits to its webpages and databases annually, and a yearly gate count of more than 1.6 million patrons. It also has an extensive collection of rare books, manuscripts, documents, photographs, artifacts and other archival materials. The Oviatt Library serves as the main research facility in the San Fernando Valley. For more information about the library or its hours, please visit it's website at http://library.csun.edu/ or call (818) 677- 2285.