CSUN Play Exploring Challenges of Teen Life to Tour Local Schools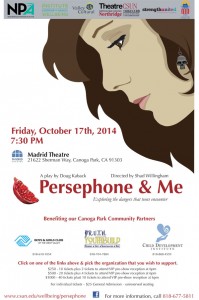 California State University, Northridge theater students will be touring San Fernando Valley middle and high schools this fall with a play that bridges Greek mythology with contemporary times to explore the challenges of being a teenager in today's world.
The play, "Persephone and Me," which also will have a special performance Oct. 17 at the Madrid Theatre in Canoga Park, explores the dangers that teens encounter in two worlds: the modern world and an ancient Greek mythological one.
"The bridging of today's world with Greek myth invites young people, parents, educators and all of us to consider the universal challenges adolescents face," said CSUN theater professor Doug Kaback, who also wrote the play. "Following this teenage girl's struggle for identity and empowerment as she transforms before our eyes, we recognize her desire to become a young woman. She matures because of her willingness to take responsibility for her actions."
"Persephone & Me" brings the Greek myth of the goddess Demeter and her daughter, Persephone, to life along with such colorful characters as Cerberus, the three-headed dog, Zeus and a love-struck pig farmer named Triptolemus. The story gets interrupted by a 14-year-old girl named Stephanie, who is starting ninth grade while struggling to communicate with her divorced parents and deciding what to do when a 16-year-old boy wants to be more than friends.
Kaback said as many as 20 CSUN theater students will be involved in the production as it visits a number of San Fernando Valley middle and high schools, including Patrick Henry Middle School, Columbus Middle School, Canoga Park High School, Nobel Middle School and Our Community Magnet School.
"This project will not only have a positive impact on our CSUN theater students, but it will also provide opportunities for people of all ages to participate in the arts, help our communities to become more connected and foster healthy relationships among teenagers and parents," said the play's director, CSUN theater professor Shad Willingham.
At 10:15 a.m. on Friday, Oct. 17, area students will have the opportunity to take a field trip to see the play at the Madrid Theatre, located at 21622 Sherman Way, Canoga Park. Free buses will be provided to four schools by the office of Los Angeles City Council members Bob Blumenfield and Mitch Englander. Student workshops will be available in collaboration with CSUN's  Strength United, to examine questions that the play raises with regard to peer pressure, decision making and teen-parent communication.
At 7:30 p.m. on Oct. 17, the play will be performed for the public as a benefit for three Canoga Park organizations — R.U.T.H. YouthBuild, Child Development Institute and the Boys & Girls Club of the West Valley. A special reception before the show will honor leaders from each program.
The play is being presented by the university's Department of Theatre and CSUN's Institute for Community Health and Wellbeing's Neighborhood Partners in Action, as well as the Valley Cultural Center. Funding for the program is being provided by a service-learning U.S. Department of Education Title V grant to support civic engagement in the Latino community. The Department of Education Hispanic Serving Institution Title V Grant's Building Connections for Success Program is dedicated to providing effective support services and academic resources to diverse students, while strengthening freshmen retention rates and improving six-year graduation rates among undergraduate students at CSUN.
For more information about the play, its performances and purchasing tickets for the benefit performance, call (818) 677-5811.