CSUN Play to Explore the Lives of People Who Live on the Border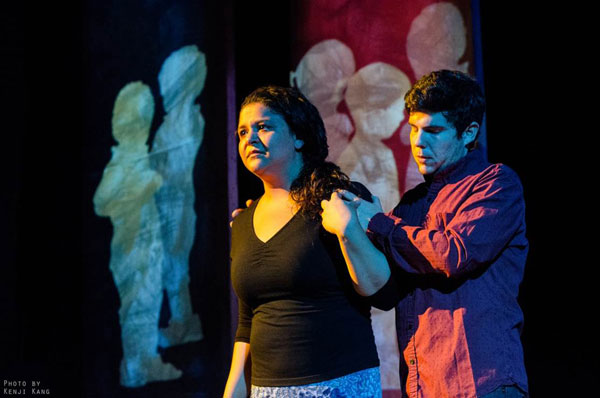 Actors Ariana Sajnani and Eric Limon rehearsing a scene from 'Juarez." Photo courtesy of the Department of Theatre.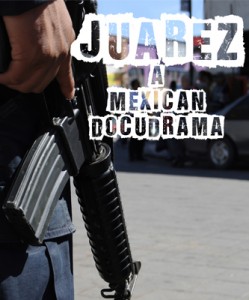 The stories are dramatic: The businessman who refused to give in to extortion, and had his feet cut off in retribution. The teenage twins whose mother disappeared and were threatened with prison, or worse, when their search for her drew national attention. The labor activist who was speaking in Chicago when she was warned that if she returned home she would faced death threats.
California State University, Northridge journalism professors José Luis Benavides and Kent Kirkton have spent the past four years interviewing dozens of people living along the border between El Paso, Texas, and Cuidad Juárez, Mexico. They wanted to get a better understanding of what is truly behind the violence that mainstream media have attributed to a "drug war." They found that the violence has its roots in political corruption and the misuse of power by Mexican authorities, including the military and police.
The results of their research have been turned into a theatrical production, "Juarez: A Mexican Docudrama," which premieres Friday, Oct. 10, in the university's Little Theatre. CSUN theater professor Peter Grego adapted the oral histories into a play in hopes of drawing attention to voices which many have turned a deaf ear in the past.
"What we are trying to do is document what is happening in the border region and get people to talk about it in a different way," said Kirkton, director of CSUN's Institute for the Arts and Media. "People think this is an immigration issue, but it's not. These people are fleeing their country. They did not come here for a better life. They were fleeing for their lives. They are refugees."
Benavides agreed, adding that the stage seemed like a natural place to tell the refugees' stories.
"Our research, the oral histories that we have collected from 31 people from along the border, is available to other researchers, but deserves to be seen by a larger audience — the public," he said. "Theater has this kind of magic. A play makes you feel more intimate with the story than a movie does. The audience is reacting to the people on stage, and those on stage are reacting to the audience. That type of connection, that magic, does not happen in a movie theater."
Grego said he spent months reading transcripts of the interviews Kirkton and Benavides conducted, many of which were originally in Spanish, to find stories that would translate to the stage. Grego even consulted with one of his former students who is fluent in the Spanish of the region to ensure that nothing got lost in the translation.
"We are telling a story that everyone thinks they know," he said. "They have some vague image of kids being bussed to a detention center and know it's something about immigration. But they don't know the truth, and it's not an easy story to hear. Hopefully, when people hear the words being spoken by our students/actors of real people talking about their experiences, they will have a better understanding about what is going on in that part of the world, which has such an impact on our country. Mexico is our neighbor, after all."
Grego has experience creating an oral history-based docudrama. In the 1980s, he created a theatrical piece based on the oral histories of those who migrated to California during the Great Depression.
He called the oral histories Kirkton and Benavides collected "amazing. The key was choosing stories that were compelling, but didn't sound fantastic. Nearly all the stories deserved to be told, the problem was finding the right ones."
Kirkton and Benavides admitted they have not seen the script for "Juarez: A Mexican Docudrama," but have faith that the work will be impactful. "These are stories that need to be heard," Kirkton said.
"Juarez: A Mexican Docudrama" runs through Oct. 19 in the Little Theatre in CSUN's Nordhoff Hall, located near the southwest corner of the campus near Nordhoff Street and Etiwanda Avenue.
Tickets are $20 for general admission, $17 for seniors, $16 for faculty and staff and $15 for students. For more information, visit http://www.csun.edu/mike-curb-arts-media-communication/theatre/juarez-mexican-docudrama.