CSUN Prof's New Book Explores the Impact of New York's 1970s Financial Crisis on Theater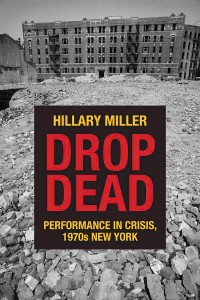 Firehouses were closed, mass transit stalled, libraries shut their doors and garbage piled in the streets as the New York City of the 1970s grappled with one of the worst financial crises in its history.
As civic and business leaders struggled to save a city pushed to the brink of bankruptcy, decisions were being made that would impact New York's cornerstone institutions, including its celebrated theater scene, for decades.
California State University, Northridge theatre professor Hillary Miller examines the impact of the municipal crisis and austerity measures on the city's theater and performance scene in her new book, "Drop Dead: Performance in Crisis, 1970s New York." The book was released this month by Northwestern University Press.
"There's something bittersweet about this period," Miller said. "Theater in New York at the time was on the cusp of major change, coming as it did on the heels of the 1960s, when there was so much activist energy around the questions of who had access to theater and what the function of theater in the city's communities should be. There was a lot of inspiring work by small theater companies that had visions of making theater more accessible. The financial crisis impeded that progress."
Miller drew her title from the infamous New York Daily News headline of 1975, "Ford to City: Drop Dead," which topped a story about then-President Gerald Ford's refusal to give the city "a federal bailout." To avoid financial disaster, New York City officials were forced to make severe cuts to several programs. Hard decisions were made — not just by city officials, but by investors as well — about what programs deserved support and by how much.
"The effects of the crisis and austerity measures were multi-level for many theaters," Miller said. "But the crisis also required people in New York's theater scene to make the argument for why it was so important to the city and its identity as a cultural center for not just the nation, but the world. The question then became, who fit into this new frame of viewing the arts?"
Those theaters hurt most by the financial crisis were those most vulnerable, Miller said — small theaters that were exploring non-traditional performances as a way to attract new audiences or to tell different stories, and theater companies that strived to give voice to underrepresented communities, including the African-American and Latino communities.
"Some of those theaters had received support from the new arts funding mechanisms of the 1960s," Miller said. "With the crisis, their situations changed drastically, as did the city around them."
The fiscal crisis forced city arts officials — and business leaders — to question the viability of theaters and other arts institutions.
"One of the negative outcomes was the real instrumentalization of theater in New York, across the board," Miller said. "If you're running a theater company, even a relatively small one, in order to get funding, you have to provide copious amounts of data about the economic benefit of your theater."
"On the surface that might sound like accountability, but it means that you're constantly weighing the economic benefits of every choice you make," she continued. "Not only is it time consuming from an administrative standpoint, but it affects programming decisions. If you're always looking to your bottom line, you're less likely to take risks, or engage in experiments that have difficult-to-measure outcomes. But great theater is created when you take risks."
Miller cited playwright María Irene Fornés, who noted that by the mid-1970s there were suddenly new levels of administrative management — even in the tiny theaters.
"Sure, you can submit your play, even if you didn't necessarily agree with the management's artistic vision, but those same administrators didn't have any money to offer, and all they had was the ability to create new hoops for playwrights to jump through," Miller said.
The contemporary argument that New York's theaters must be evaluated through the lens of economic development grew out of the 1970s fiscal crisis, Miller said.
"Those who survived the crisis did so because they were in a position to make the case for the economic importance of their theaters to a community, as a public service that should not be abandoned," she said. "As New Yorkers argued for the importance of having their city services reinstated in spite of the austerity measures, others argued that New York's theater scene was just as essential as trash collection — it was an essential part of the fabric of the city."
With the bottom line becoming more and more important to justify and preserve the theater scene, new questions arose about the value — and values — of the productions being offered. Even large New York cultural institutions such as Lincoln Center did not survive the crisis unscathed. Acclaimed theater director and producer Joseph Papp had been hired to oversee the center's theater program.
"He decided to showcase contemporary playwrights, and it created a major firestorm," Miller said. "Some interpreted [his choices] as 'another sign of our city going down the drain.'"
Many patrons felt Lincoln Center should focus on "classical theater," she said, and not works by new playwrights — especially those of color, whose plays confronted contemporary and sometimes controversial social and political issues.
While civic and business leaders were demanding cutbacks, Miller said, some communities decided the arts and, in particular theater, were too important to lose.
"It was inspiring to see how many grassroots theaters survived the crisis," she said. "Many artists collaborated with community groups closely. They didn't receive credit for helping to save the cultural life of the city, but they contributed to neighborhoods that were in many respects neglected by the city."
Miller singled out director Vinnette Carroll, who was determined not to let the financial crisis deter her efforts to make theater available to, and more reflective of, a broader audience. In 1972, Carroll became the first African-American woman to direct on Broadway with her staging of the acclaimed "Don't Bother Me, I Can't Cope." She repeated that success four years later, directing "Your Arms Too Short to Box with God."
Miller said the repercussions of New York's 1970s municipal crisis have been long lasting. While austerity measures had different implications across the city, the pressure to justify cultural activity in the context of the city's economic engines remains. She pointed out that much of New York theater today is dominated by productions designed to fill seats and satisfy economic development goals. New works are often nurtured outside New York before they make their way to Broadway.
"The rhetoric around the fiscal crisis discouraged creative risk-taking, and demanded self-sufficiency from arts organizations," she said. "But artists need the room to take chances, and even to fail, if they are going to create something good."